This chicken vegetable stir fry is so simple and delicious. This meal is pretty low on calories but still very filling. We love making extra to leave some for leftovers the next day.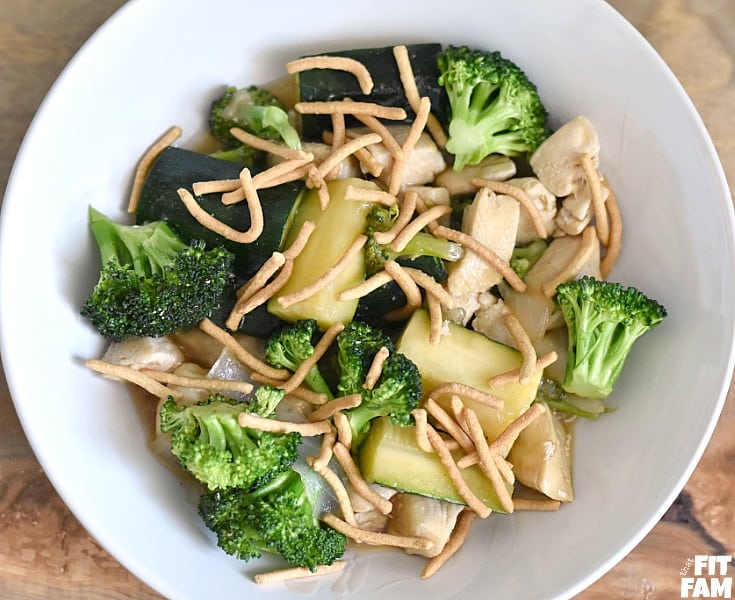 We always make this stir fry with zucchini, mushrooms, broccoli, and onion, but you can definitely add in any veggies you prefer. I love adding in baby corn if I have the macros for it. We typically serve this over cauliflower rice, but if you are looking to add in more carbs it's super easy to sub in some quinoa or brown rice instead.
I make this using the Knorr brand Cubed Chicken Bouillon. I have tried using just straight up chicken broth instead, but I just prefer the flavor of the bouillon cubes more. This recipe also calls for 2 tbs butter and garlic, I recently tried this using just some garlic butter instead and that is delicious as well. The garlic butter is actually less fat per serving too so that's a plus.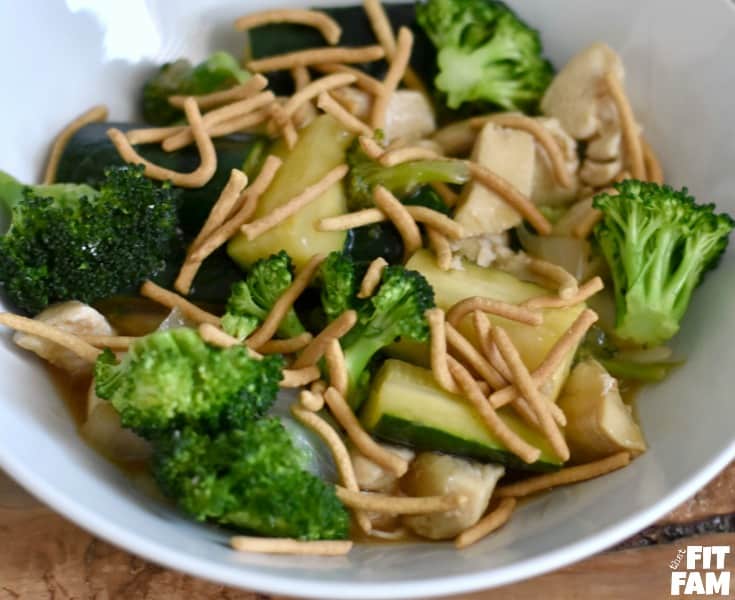 The crunchy chow mein noodles are optional, but give this easy stir fry a nice crunch. When I run out of my Crunchy Chow Mein.
Yield: 6 servings
Easy Chicken & Veggie Stir Fry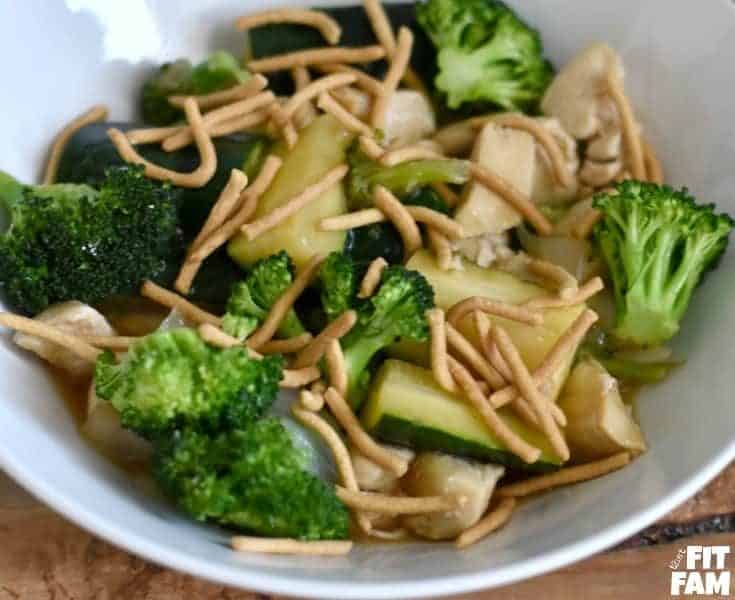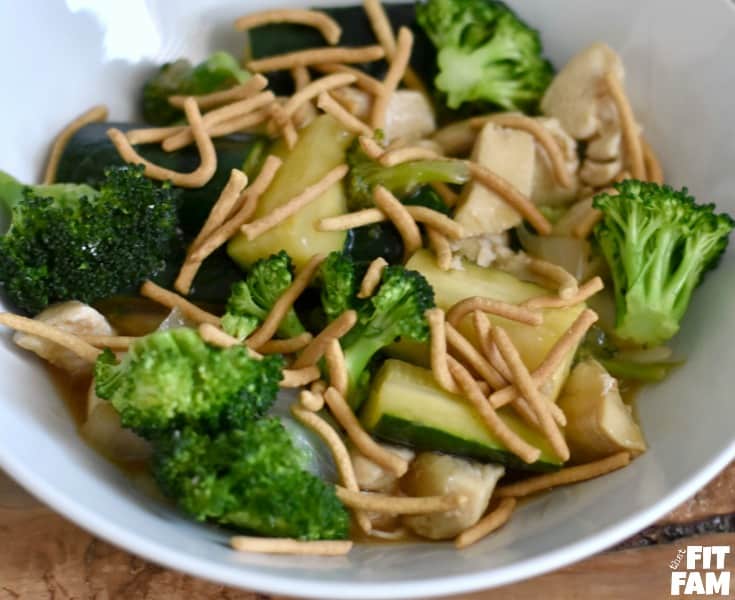 A delish low carb chicken stir fry loaded with veggies.
Ingredients
2 zucchini
8 ounces mushrooms
1 cup broccoli florets
1/2 onion
1 1/2 pounds chicken
1 chicken bouillon cube
1 1/4 c water
3 tbs corn starch + 3 tbs cold water to dissolve in
1/2 tsp salt
1/4 tsp pepper
2 tbs butter
2 cloves garlic, minced
1 tbs low sodium soy sauce
additional veggies as desired
crunchy chow mein noodles (optional)
Instructions
Dice chicken into small cubes.
Heat butter, onion & garlic in a large skillet, over medium heat.
Add chicken, salt, & pepper.
When chicken is mostly cooked through, add soy sauce, water, & bouillon cube.
After a couple minutes, add chopped zucchini & mushroom.
Dissolve 3 tbs corn starch in 3 tbs cold water & add to mixture to thicken.
When veggies are at desired level of tenderness the meal is ready to eat.
Serve over 1/2 cup cauliflower rice & add crunchy chow mein noodles if desired.
Notes
Nutrition facts calculated without cauliflower rice & optional chow mein noodles.
Nutrition Information:
Yield:
6
Amount Per Serving:
Calories:

224
Total Fat:

8.2g
Carbohydrates:

10g
Protein:

27.8g