This healthy blackened chicken salad comes together so quickly and is packed with superfoods. Perfect healthy lunch to power you through your day.
For a while I debated on sharing recipes like this one because it doesn't really feel like a recipe to me.
Yes, this healthy blackened chicken salad contains homemade ingredients in it. But, I don't know, I guess I just think of a recipe as something that contains spices and/or baking powder, etc.
This is really just what toppings I enjoy on my salad. That being said, it's insanely delicious and is both mine and my husband's favorite salad recipe right now, so the combination of toppings must be working, which is why I'm sharing it.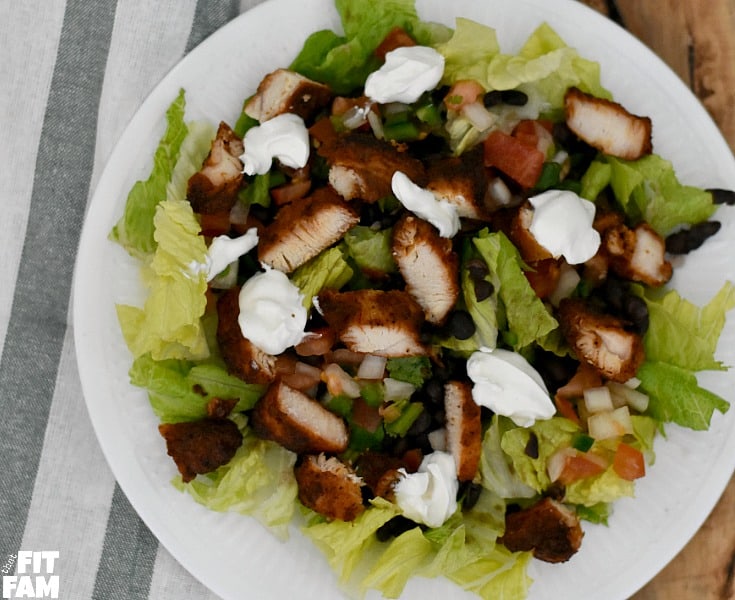 One of the best things about this healthy blackened chicken salad is that it comes together really quickly.
The disclaimer I will add is that I meal prep most of the ingredients the Sunday before the week begins.
I eat this salad probably about 4 times a week, so I make sure to have the ingredients ready for that reason. If I were only making it once, it'd probably be a lot of effort to home-make beans for 1 meal.
What to meal prep:
For this delish salad, I meal prep a few different things.
First off, I always make a homemade pico de gallo. It's super easy and cheap to make. It probably takes me at most 3 minutes to make this for the week.
I will also saute some fajita veggies (bell pepper & onion slices) and throw that in a tupperware container for when I need it.
Probably the most time consuming thing I prep would be the black beans, but even that is super easy.
For homemade black beans, I just follow the pre-cooking directions on the bag of dried beans. I will rinse, and bring to a boil for 2 minutes and then remove from heat and let sit covered for an hour. Then I rinse & drain the beans and stick them in a crock pot with water overnight with a half onion and a couple cloves of garlic.
Then next day I will stir in about 1/2 tbs salt. I don't do this in the beginning because when I was little my mom told me that adding salt in at the beginning makes it so your beans never get soft. I have no clue if that's true, but I haven't wanted to risk it.
You can definitely use canned beans, but I get 13 servings out of a 1 pound bag of dried beans and that typically costs less than a dollar to purchase. For us, homemade are just cheaper and taste a little better.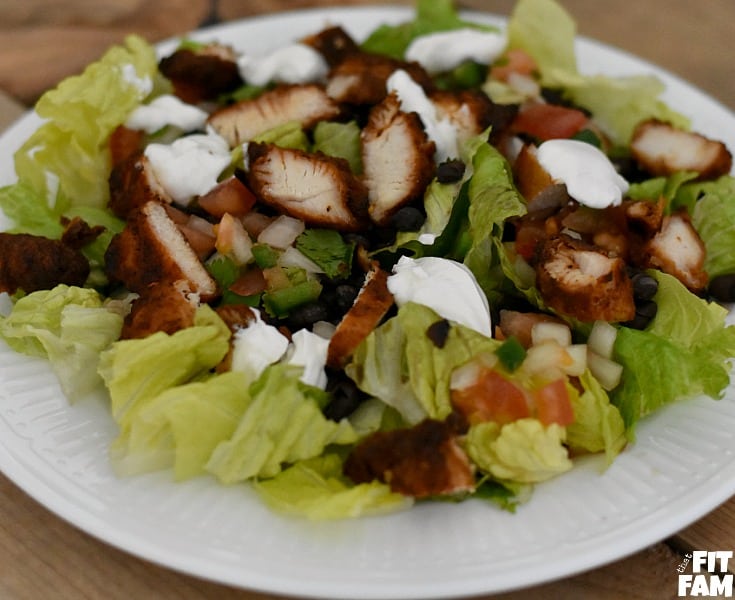 Blackened Chicken
Okay, for this I literally just use the frozen pre-cooked blackened chicken from Tyson. I used to make Tinga de Pollo and use that as the topping, and while that was great too, this blackened chicken is so much easier and I love the flavor it adds to the salad.
Update: I'm pretty positive these have been discontinued. Instead, I've just been taking raw chicken tenderloins, seasoning them with a generous coating of McCormick Cajun Seasoning
and "pan frying" them until cooked through with a little canola oil cooking spray.
Dressings
You won't see a dressing included in this recipe. We don't use any. Personally, I think that there is enough moisture from the black beans, pico, and dollop of sour cream to make it unnecessary. However, feel free to add your favorite dressing on top!
Yield: 1 salad
Blackened Chicken Salad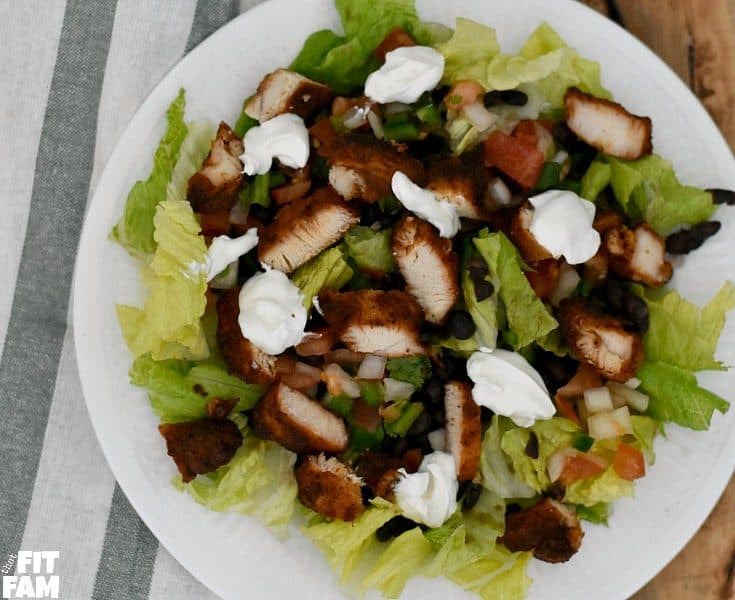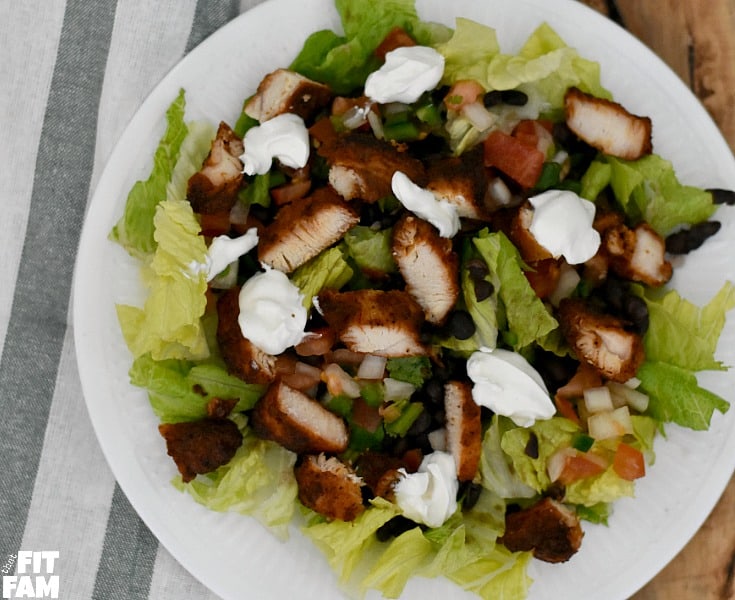 This blackened chicken salad comes together so quickly and is packed with superfoods. Perfect healthy lunch to power you through your day.
Ingredients
3 ounces romaine lettuce
100 grams homemade black beans (about 1/2 c)
2 tbs homemade pico de gallo
4 1/2 ounces fully cooked Tyson blackened chicken strips or 4 1/2 ounces raw chicken tenderloin + Cajun seasoning
30 grams sour cream (about 2 tbs)
Fajita veggies (optional)
guacamole (optional)
Instructions
If using raw chicken tenderloins: coat in Cajun seasoning & pan fry using cooking oil spray.
Put romaine on a plate, and distribute the rest of the ingredients evenly across salad.
Enjoy!
Nutrition Information:
Yield:
1
Amount Per Serving:
Calories:

333
Total Fat:

9.6g
Carbohydrates:

26g
Protein:

38.8g