So as some of you may know, I actually prep every meal we eat. This low carb burrito bowl is no exception. It is a family favorite. It's also unbelievable easy to toss together, so that's another win 😉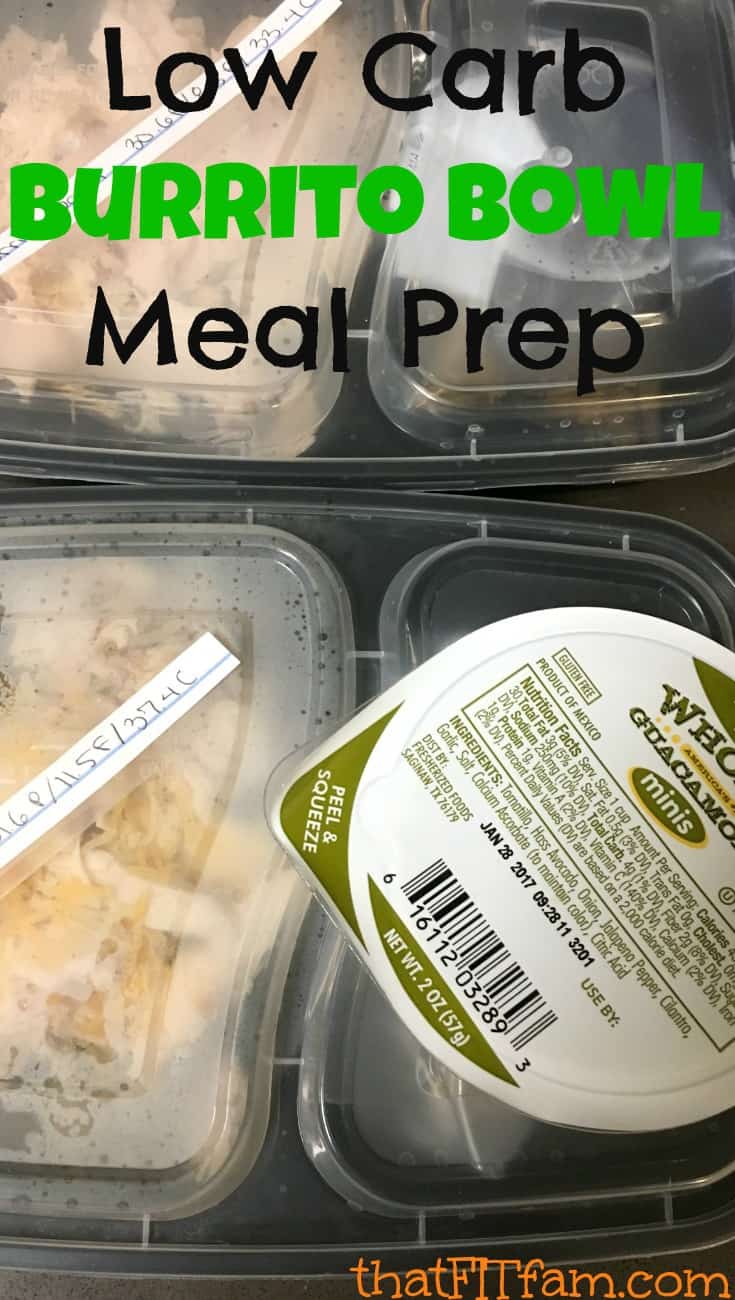 Why do I prep every meal?
Well, it saves us money and fills us up more. I have just made the decision to be more on top of our meals. I want no room for error in our diet right now and it's paying off. Everyone in this family is happier and healthier because of it. My toddler is sleeping through the night again thanks to no processed foods/sugars and my husband isn't tempted to buy pre-packaged unhealthy snacks at work. Plus, homemade meals are freaking delicious!
Recommended Read: Transitioning to a Sugar Free House
Have you ever bought something because it was convenient and then thought, geez, that's not as good as I expected? Yep, us too. But when you meal prep and have your lunches ready to go & customized to your taste buds you don't have to worry about that! Plus, if you meal prep days in advance, I'm CONVINCED the meals taste better!
Why? Well, hear me out. Part of the allure of dining out is that you don't have to make it yourself. It tastes better because there's less dishes for you and little to no effort as well. Well. If you meal prep in advance, sure it's one day of busy-ness & cooking & tons of dishes BUT you quickly forget it all and have hardly any dishes & no cooking to do the following days! That prepped meal just got tastier because all it required of you was to be heated up in the microwave.
Even though there are healthy fast food alternatives, I'm sure you would all agree with me that home cooked is the way to go, especially once you try our homemade low carb burrito bowl!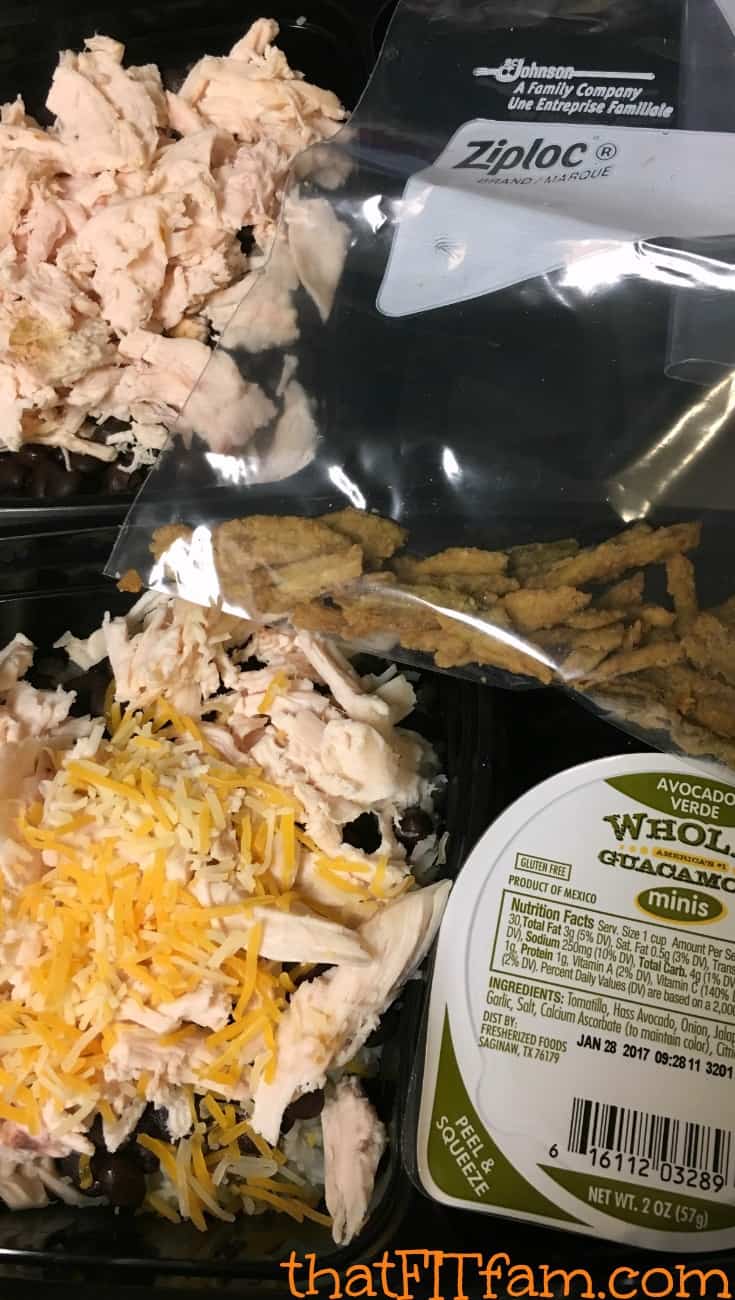 Tips for Success:
So, typically I for the week I get a ton of frozen Kroger brand cauliflower, microwave it, chop it in a food processor and set it in tupperware for various meals like our spicy cajun rice or this low carb burrito bowl.
I also use canned black beans just to simplify my life even further. The can specifies otherwise, but I only get three 1/2 cup portions out of a 15.25 ounce can.
Again, because we're talking simple here, I use pre cooked rotisserie chicken from Costco and measure out 3 ounces for each bowl.
That's it for the base, from there, your toppings are up to you. I add reduced fat cheese, crispy jalapeños & a side of mini wholly guacamole in the avocado verde flavor.
Healthy Low Carb Burrito Bowl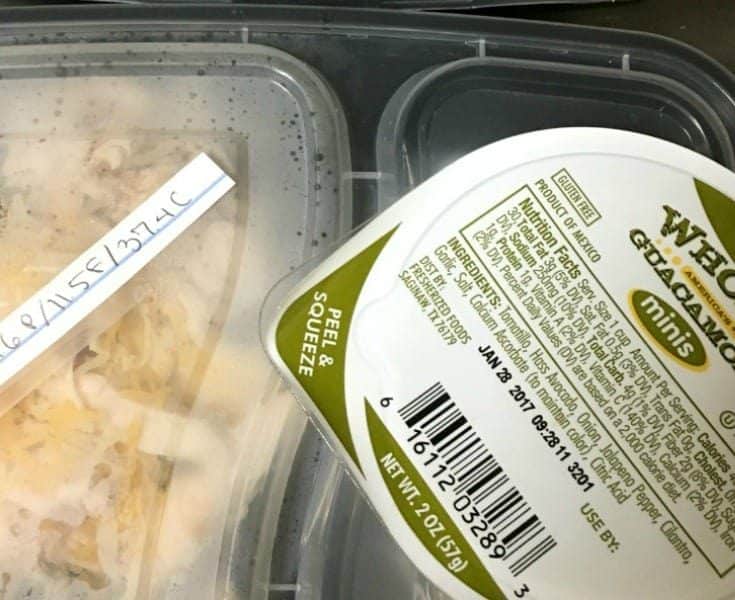 This easy low carb chicken burrito bowl with crispy jalapeños is a perfect lunch or dinner to meal prep weekly.
Ingredients
1/2 c cauliflower rice
1/2 tbs lime juice
salt to taste
1/2 c black beans
1 clove garlic
salt to taste
3 ounces cooked chicken
.5 ounce reduced fat cheese, mexican blend
1 serving jalapeño crisps
1 mini wholly guacamole cup (optional)
salsa (optional)
Instructions
Add lime juice & salt to cauliflower rice, stir then add to bowl.
In a sauce pan, add beans, garlic and salt to taste.
Stir over medium heat for about 5 minutes & add to bowl.
Top with 3 ounces of chicken and whichever toppings you'd like.
Notes
We keep all toppings separate until ready to eat, especially guacamole/any cold items. Nutrition facts calculated without optional items.
Nutrition Information:
Yield:
1
Amount Per Serving:
Calories:

310
Total Fat:

8g
Carbohydrates:

28g
Protein:

35g