Today I am going to share one of my favorite ways to make cauliflower rice. And it's really just simple when you think about it. I used to hate cauliflower rice until I discovered this one thing that makes it so tasty. Can you guess what it is? Seasoning!
I know, it sounds too obvious. But I can't tell you how many cauliflower rice meals I suffered through without it. So in case you're like me and are having a hard time with your white rice substitute, it can be 100 times better! If you add seasoning to it, your cauliflower rice transforms into a healthy side dish you can't imagine your meal without!
Honestly, this is some of the best rice I've ever made. We love pairing it with our Cajun Shrimp because I think the spicy seasonings really compliment the dish well.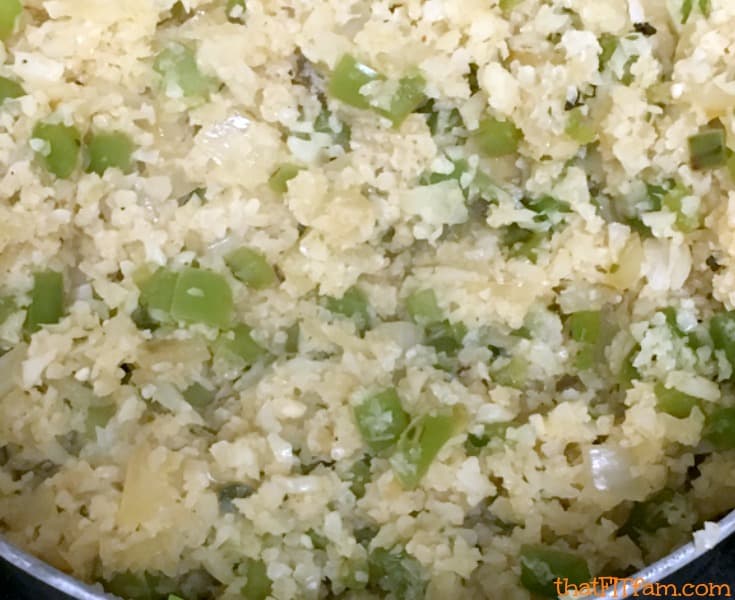 If you haven't made cauliflower rice before, it's super easy. I usually just buy a couple bags of the Kroger brand frozen cauliflower florets from the store & then pop them in the microwave for about 5 minutes and run them through my Food Processor until they have a rice like consistency.
I love using a large food processor for this (like this one) and just making a ton of rice in bulk for the week. Then I either season it like this, or just add a little lime juice to it instead for some healthy burrito bowls, or I process some of the rice a little longer for a cauliflower mash instead. This veggie is so versatile, I love it!
Spicy Cauliflower Rice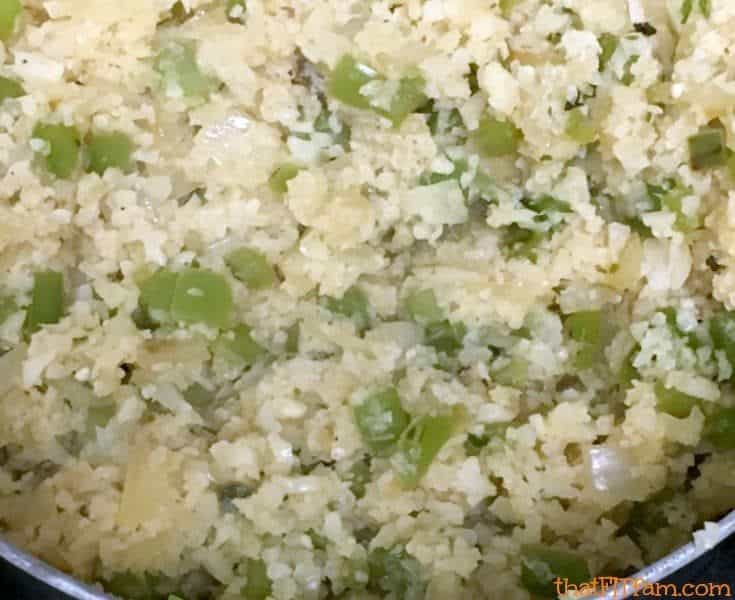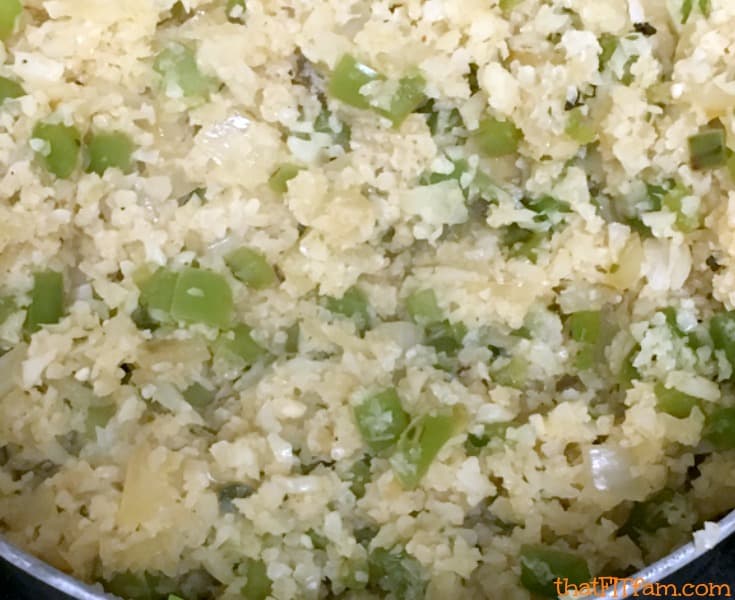 This is a flavor packed cauliflower rice that is a little spicy. It pairs great with our Cajun Shrimp recipe.
Ingredients
½ small onion, diced
1 green bell pepper, chopped
1 garlic clove, minced
¼ tsp paprika
¼ tsp cayenne pepper
½ tsp dried oregano
½ tsp dried basil
1/4 cup chicken stock
3 cups cauliflower rice
salt & pepper to taste
Instructions
Spray a small pot with cooking oil spray & add onions, peppers, & garlic. Cook on medium heat about 2-3 minutes.
Add seasonings, toss to coat.
Add cauliflower rice & stir.
Add in chicken stock, stir & let simmer until most of the chicken stock has evaporated.
Serve warm.