Here's a quick, high protein hot chocolate recipe for you to enjoy. It has 18 grams of protein per serving & doesn't use protein powder!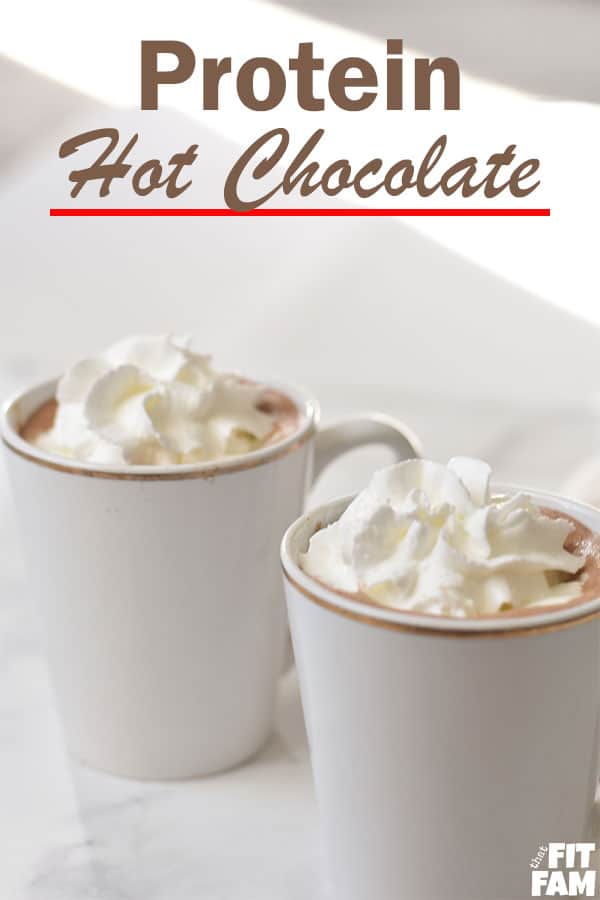 This is such a great way to get in extra protein and get a treat at the same time.
There are so many different ways to make this. Most people will just mix a scoop of protein powder with milk and heat it up. But that's just not very good. I don't even think it fully qualifies as hot chocolate, it's more like a hot protein shake.
So instead, I am going to share my favorite version of protein hot chocolate. It's all about making a couple easy swaps. You could even just make these simple tweaks to your preferred hot cocoa recipe too!
How to make protein hot chocolate
Okay, there are a couple different ways to get a serving of protein in your glass of hot chocolate.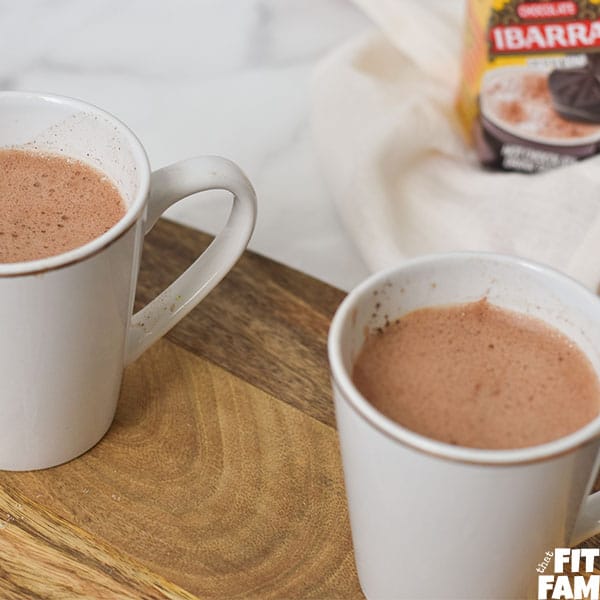 My FAVORITE way is to make my normal hot chocolate, but replace the milk with 1 cup of skim Fairlife milk. It's lactose free and super high protein. 1 cup will give you THIRTEEN grams of protein!
After this, I mix in my hot cocoa mix and microwave for 1-1 1/2 minutes. Then, I add in 2 ounces of Chocolate Premier Protein Shake to up the protein content a little more.
This adds roughly 5 more grams of protein to my glass. They also have a Caramel Protein Shake, which I sometimes add instead for a caramel hot chocolate. Soo good!
If you don't like the premier protein drinks, I've been LOVING the chocolate Shamrock Farms Rockin Protein.
Once I've done this, my hot chocolate then has a whopping 18 grams of protein! Sure, it's not insanely high, but as a snack that's pretty ideal.
Single serving protein hot chocolate recipe:
1 c Fairlife Milk
2 tbs sugar (or equiv. sugar substitute)
2 tbs cocoa powder
dash of cinnamon
1/4 tsp vanilla extract
2 ounces premier protein shake in chocolate or caramel flavor
Microwave milk for 1- 1 1/2 minutes (be careful)
Stir in remaining ingredients
When I'm making a big batch for the whole family, I will just use Ibarra chocolate mixed with the milk on the stove using an immersion blender. I just don't pour the premier protein into the kids' mugs.
The great thing about Fairlife (or Carbmaster, both are similar) is that it doesn't really taste much different from normal milk. So you are getting a super decadent, chocolatey treat this way (that just so happens to be full of protein)!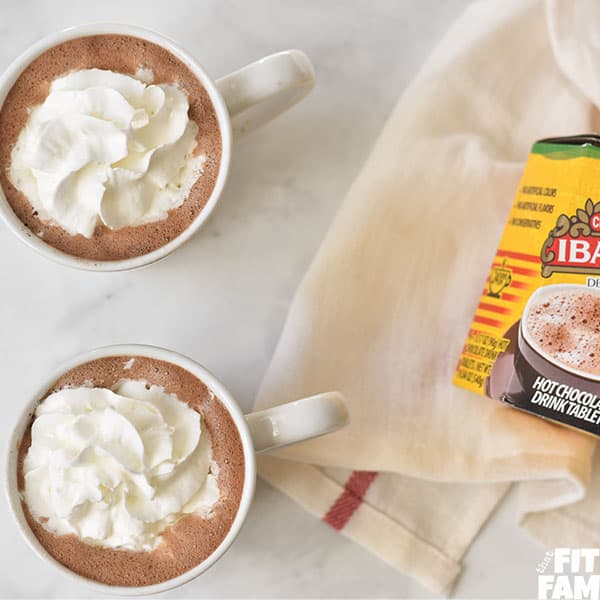 Alternate recipe
Her is another recipe, and it is definitely not for everyone. But if you follow IIFYM, it's a lot more macro friendly just because it has less sugar (carbs).
1 c milk of choice
1 scoop chocolate protein powder
2 tbs cocoa powder
Microwave milk for 1-1 1/2 minutes.
Stir in protein powder & cocoa powder & enjoy.
Optional, add in premier protein shake for added protein, but not necessary as you will most likely get 30+ grams of protein from the 3 ingredients alone.
Truthfully, I rarely make this protein powder version because it's just not as good. It's popular in the IIFYM community, but it just tastes like warm protein shake to me…
Where to find Fairlife Milk
We LOVE Fairlife milk! Aside from the high protein, low carb aspect, it tastes great and is lactose free. We have been able to find it at our local grocery store as well as Walmart and Target.
If you have a store near you that carries Kroger brand products, Carbmaster milk is a similar milk. The nutrition facts are almost identical and it's slightly cheaper.
If you don't do dairy, my husband loves the Protein Nut Milk from Silk made from a blend of cashews and almonds. It is a little thicker, but that's not a bad thing in hot chocolate.
How to serve your protein hot cocoa
This really comes down to preference and goals. If you are strictly tracking macros, you may not be able to fit in extra toppings. For me, I look at this as a treat, so I add on some whipped cream. You can also top with marshmallows and sprinkles if you'd like!
Additional Notes
Truthfully, it's all about the milk/protein shake with this recipe. If you choose to use Fairlife milk and premier protein shake, you could really do any cocoa recipe. If you really enjoy Swiss Miss Hot Cocoa packets, by all means, use that.
The protein has nothing to do the cocoa recipe and everything to do with the milk you use.
There are so many benefits to upping your protein intake. Not only does it help with muscle retention, but it keeps you fuller longer which is great if you are trying to avoid that holiday weight gain!
Protein Hot Chocolate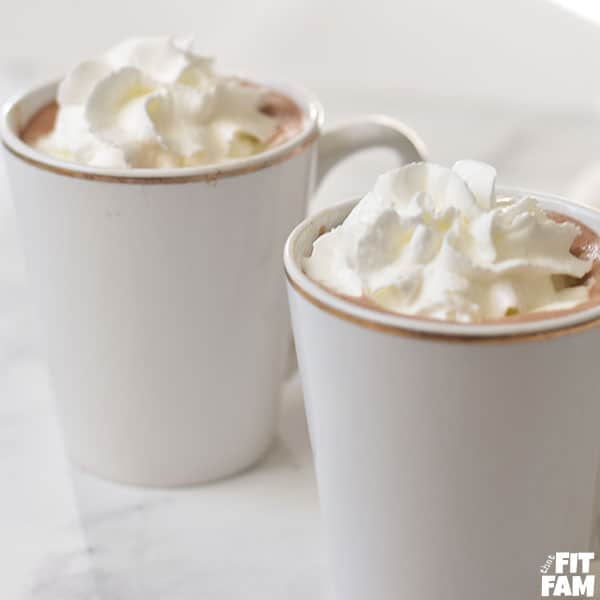 This protein hot chocolate recipe is so easy to make and tastes delicious. The protein comes from the type of milk used, not protein powder which is why it still tastes great!
Ingredients
1 c Fairlife Milk
2 tbs sugar (or equiv. sugar substitute)
2 tbs cocoa powder
dash of cinnamon
1/4 tsp vanilla extract
2 ounces premier protein shake in chocolate or caramel flavor
Instructions
1. Microwave milk for 1- 1 1/2 minutes.

2. Stir in remaining ingredients.
Notes
The fairlife milk has a whopping 13 g protein per serving, plus the premier protein shake adds about 5 more grams of protein. Not bad for a tastier protein hot chocolate.