Mexico got it right with corn tortillas. They make everything better. Even if you're more of a flour tortilla lover, just give this breakfast Migas recipe a try. The nutty flavor of the corn tortilla combines perfectly with the eggs, I don't even know how to explain it. It's just good, okay?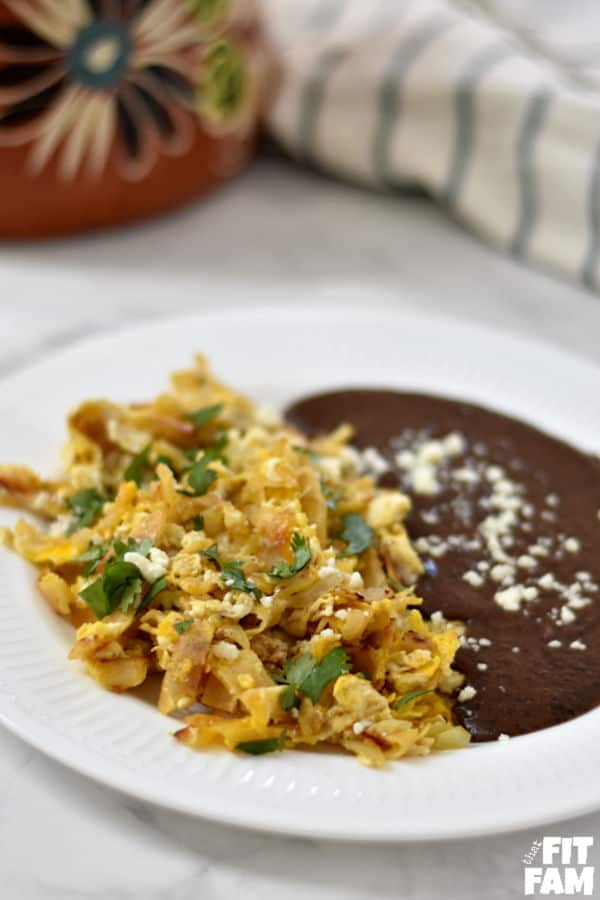 Maybe it's the Mexican in me, but I could have corn tortillas with every meal. With eggs? yes! With steak? yes! With soup? Yep, roll it up & dip it in! Yum!
Back to the recipe. If you're unsure of what Migas is, it's a traditional Mexican dish comprised of scrambled eggs tossed with crunchy tortilla strips and some diced onion. It sounds simple & it is, but that's why it's so good.
Migas is the perfect dish to mix things up at breakfast time. You can eat it as is, or you can top it with some fresh salsa & a side of beans to make it a bit more filling.
I'm normally a pinto beans fan, but with this recipe I love to add my pureed black beans on the side instead.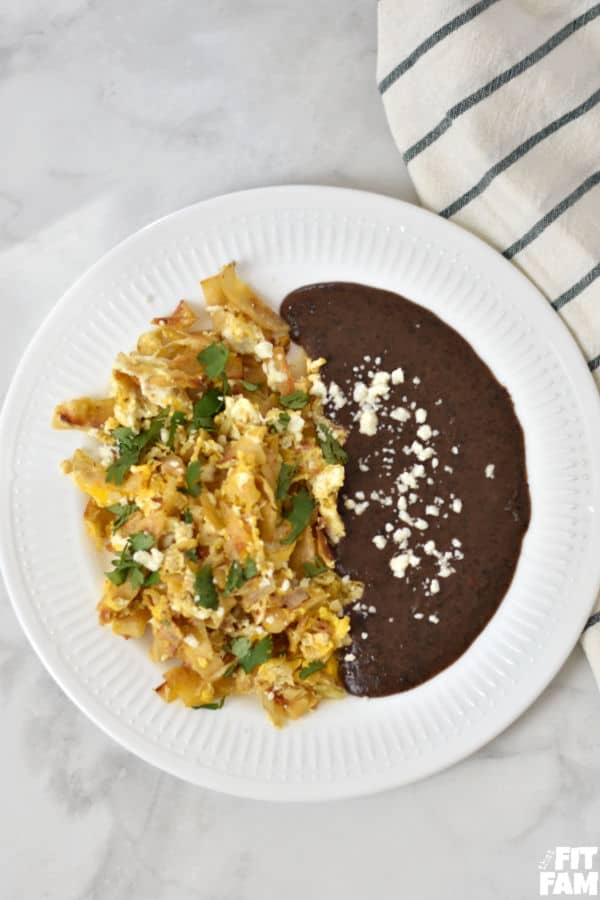 Cooking tips:
If you want to cut down on the fat, you can definitely air fry the tortilla strips. I would not use pre-made tortilla strips simply because the flavor just isn't going to be as good & I think they get soggy faster.
When frying, use cold tortillas. I actually keep my corn tortillas in the fridge, not only do they fry better, but they'll last longer.
This recipe pairs well with salsa, but if you don't have any on hand & don't want to make it, you can add some diced jalapeño to kick that spice up a bit.
Pair it with:
Tomatillo & Arbol Chile Salsa -A MUST! This salsa drizzled on top makes such a difference!
Queso Fresco (found at most grocery stores, we love Cacique brand)
Yield: 1 serving
Breakfast Migas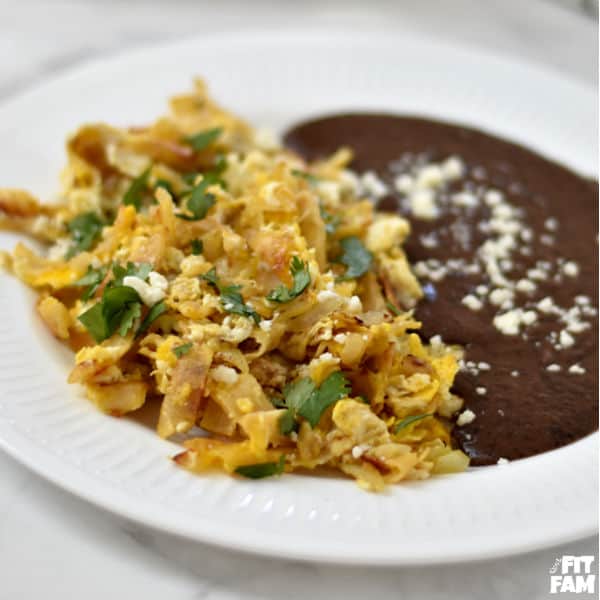 A Mexican breakfast egg scramble combining crispy tortillas and scrambled eggs.
Ingredients
about 1/8 onion, sliced thinly
2 eggs
2 corn tortillas, cut into strips
salt
1 tbs oil
optional toppings: jalapeños, salsa, queso fresco, cilantro
Instructions
Heat oil in a frying pan over medium heat.
Once hot, add in corn tortillas. Turn occasionally & cook until slightly crispy. Most oil should be absorbed.
Add onion to the tortillas and cook until translucent. The tortillas will continue to crisp as well.
At this point, there should be hardly any oil left at all.
Once onions are cooked & tortillas are at desired crispiness, use your spatula to clear a space in the pan & add in eggs.
Scramble them lightly in the pan using the spatula & wait about 10 seconds for them to partially cook.
Now, mix them with the rest of the ingredients in the pan being careful not to over stir. Basically once the eggs are evenly distributed you stop stirring. Sprinkle salt all over & stir only once more.
When the eggs are completely cooked, it is done. Serve warm with some queso fresco on top, salsa, & a side of beans.
Nutrition Information:
Yield:
1
Serving Size:
1 portion
Amount Per Serving:
Calories:

373
Total Fat:

25g
Carbohydrates:

23g
Protein:

15g