If you're looking for a new recipe to try out, I've got the best one! Enfrijoladas! They're basically like enchiladas, but with a bean sauce instead and can be eaten at breakfast, lunch, or dinner depending on the filling. It is the ultimate comfort food.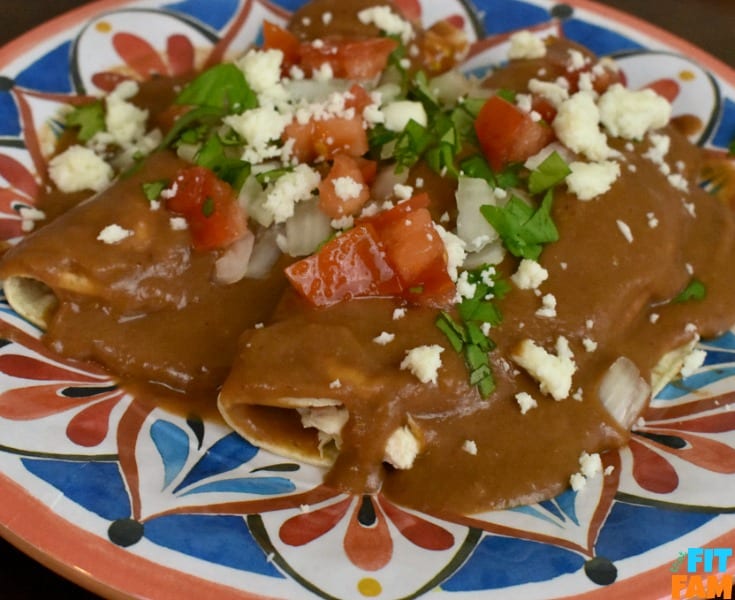 The funny thing is, they're actually super easy to make but for some reason, I haven't made this in a while. It's crazy because I make our refried beans all the time, I could totally take the extra step to turn them into enfrijoladas but I never do..
This is a super authentic Mexican dish that your whole family will love! I know ours does.
To start off, you need about a pound of beans, cooked. You can buy canned, but it's really easy to just throw some dried beans in a crock pot over night too, which is what I typically do. The recipe traditionally uses black beans, but you can use pinto beans as well. I will cook 2 pounds in the crock pot and then turn 1 pound into enfrijolada sauce and the other into refried beans. (The top pic in this post is with pinto, the last pic on the white plate is with black beans)
The first thing I do with this recipe is grab a 3 qt stock pot and turn the heat to medium. I then lightly toast 2 ancho chili peppers (stems & seeds removed) on both sides. Once that's done I set it aside and spray my pot with a little spray canola oil. Then I add the onion, garlic, and serrano pepper to the pot. I cook this for about 1-2 minutes until fragrant. Then I add the beans with about 1 cup of their liquid. I toss the toasted ancho chili peppers back in, and add the avocado leaf. Sprinkle with salt and let simmer for about 3 minutes.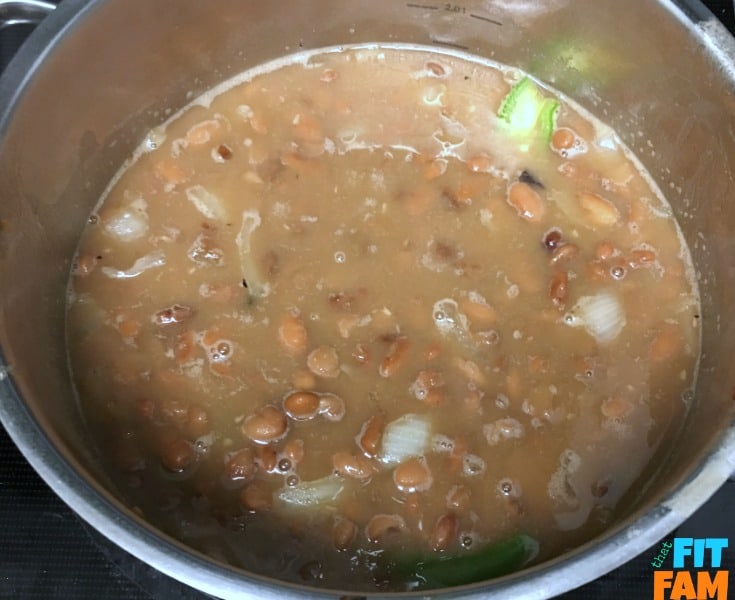 Lastly, I pour the entire pot into a blender and puree the sauce and then transfer back to the pot. Depending on the consistency of the sauce at this point, I will add chicken stock. You want the sauce to be slightly thicker than gravy. Typically, I add in about a cup of chicken stock, sometimes more to get the right consistency. I leave the sauce in the pot on low heat to keep it warm while I prepare the filling and tortillas. And that's it! You now have a delicious sauce!
Assembly of the enfrijoladas:
To assemble these you want to take corn tortillas and lightly fry them with canola oil cooking spray in a comal or skillet. You want these to still be pliable! DO NOT TURN YOUR TORTILLAS INTO TOSTADAS. This process will go fast, probably about 10 seconds or so per side of each tortilla.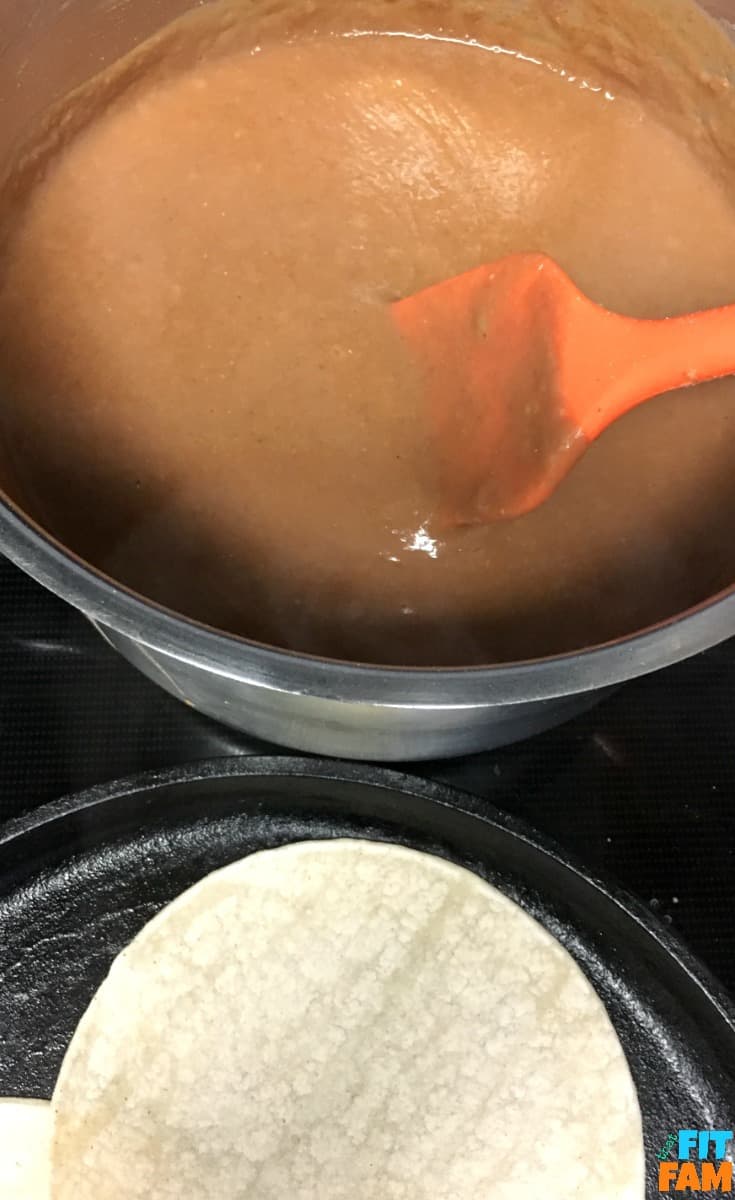 Next, dip your tortilla into your sauce, shaking off the excess and placing on your plate. Fill with either scrambled eggs or shredded chicken and fold tortilla in half. Top with more sauce and cilantro, diced onion, tomato, & queso fresco! Enjoy!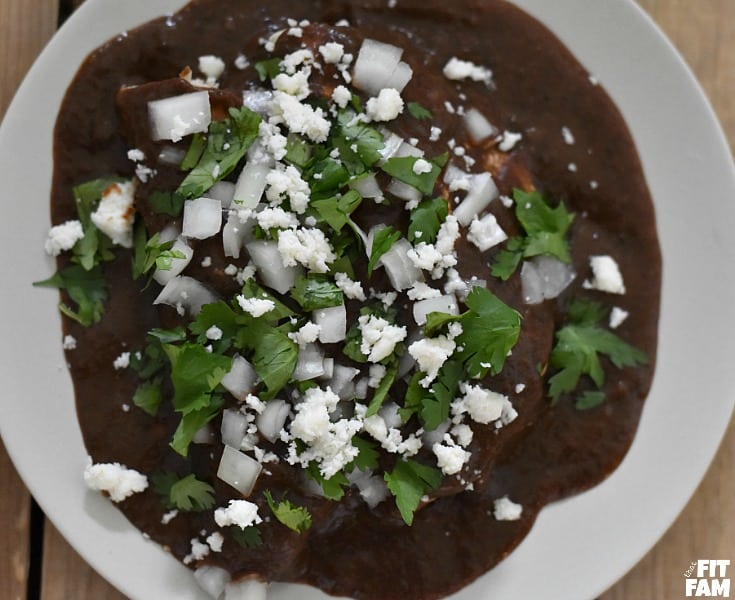 Enfrijoladas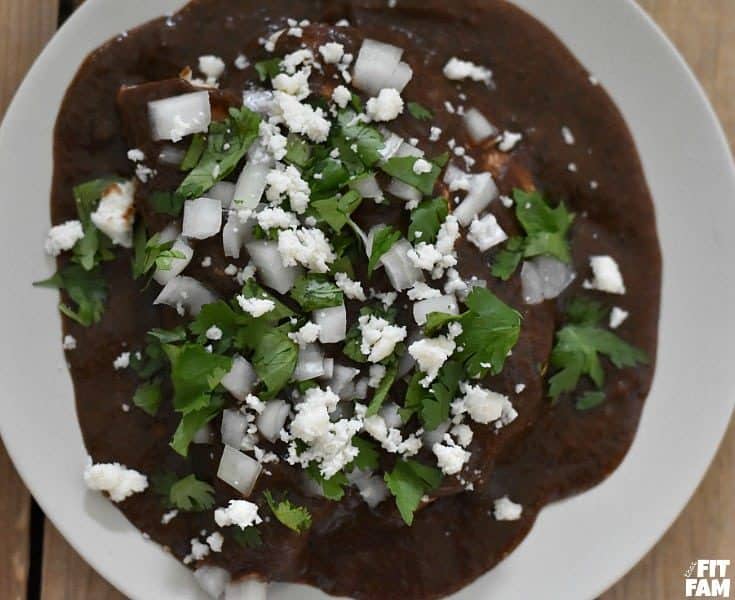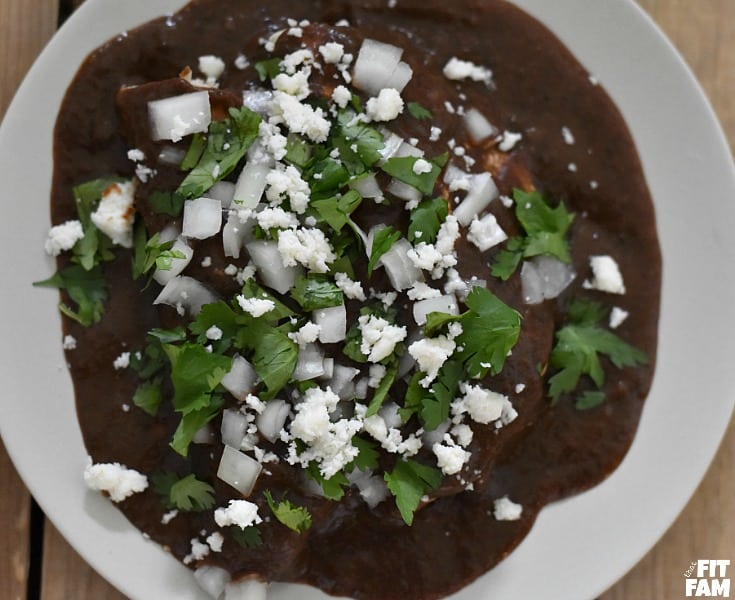 Enchilada style meal made with a flavor packed bean sauce and filled with either chicken, eggs, and/or cheese.
Ingredients
1 pound black beans, cooked
1 cup bean water or chicken stock
about 1 cup of additional chicken stock
1 serrano pepper, sliced in half with stem removed
2 dried ancho chili peppers, toasted, seeds and stem removed
1 avocado leaf
2 cloves garlic, minced
1/2 tbs salt
more salt to taste
To assemble the enfrijoladas:
queso fresco
diced tomato
chopped cilantro
1/2 small onion, diced plus extra for garnishing
shredded chicken
corn tortillas
Instructions
Black bean sauce:
In a 3 qt pot, sautee diced onion, garlic, and serrano pepper over medium heat until fragrant.
Add in beans and their bean water, toasted ancho chili peppers and avocado leaf.
Simmer for about 3 minutes.
Blend everything in a blender until smooth and then return to pot.
Turn heat to low, add in chicken stock until sauce is a consistency slightly thicker than gravy.
Add in 1/2 tbs salt and more to taste.
Enfrijoladas:
Lightly fry corn tortillas in a comal or skillet, making sure they are still pliable.
Dip in sauce, shaking off excess and then place on plate.
Fill with either scrambled eggs or shredded chicken and fold tortilla in half.
Top with more sauce, diced onion, cilantro, tomatoes and queso fresco. Enjoy!