Build great memories with these fun things to do when at a sleepover!
We are having a cousin sleepover in the near future, and it is so important to me that we fill it with tons of great memories! We don't see my nieces & nephews very often since they live in a different state, so we need to make the most of this time.
When I was a kid, the best part of a slumber party were the snacks, the secrets, the activities and, of course, the breakfast the morning after. We may've watched movies too, but I definitely don't remember it.
Fun things to do when at a sleepover- food & snacks
Before we get into the activities, let's talk food & snacks.
Sleepover Dinner
My college roommate's sleepover tradition was DIY pizza. Every sleepover growing up, they made pizza from scratch. I love that idea. Not only is it a fun activity to customize your own toppings & assemble, BUT it's a super kid friendly dinner idea.
We love using a pizza stone and pizza peel for our homemade pizzas. It really makes a huge difference. I like to make the dough ahead of time. I use Wolfgang Puck's pizza recipe, but you can easily buy pre-made dough at any grocery store.
Sleepover Snacks
As for snacks, self-serve foods work best. Things like:
chips & dip
popcorn
fruit
pigs in a blanket (mummy pigs if it's a Halloween sleepover)
cookies
candies
Sleepover Breakfast/Brunch
Brunch is my favorite meal. Try 1 or 2 of these ideas:
Chocolate chip pancakes
Crepes
Bacon, sausage
Assorted fruit
French toast
I am a huge fan of something more savory in the morning so I would probably opt for a casserole and some bacon/sausage with a side of fruit.
Fun things to do when at a sleepover- kids' & teen activities
This is the fun part. Let's talk about what FUN activities you can do when you are at a sleepover!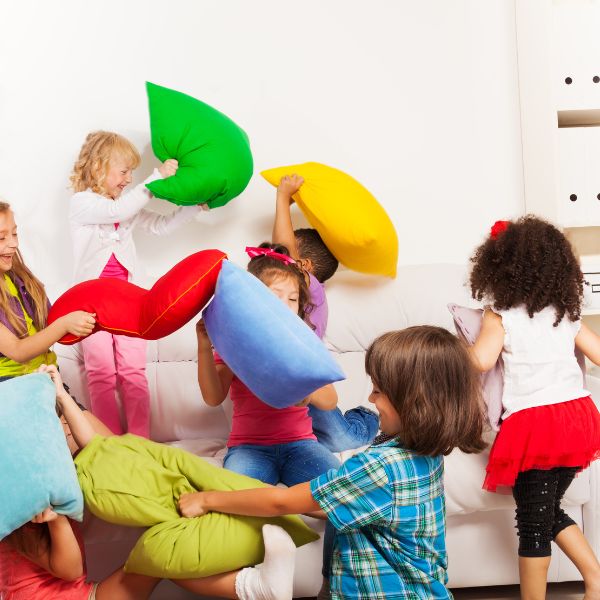 Make homemade root beer with dry ice

You can grab dry ice a most grocery stores, just be very careful & never handle with your bare hands. I will be using tongs. Here is a recipe for the root beer. It looks like it only needs water, sugar, root beer extract and dry ice!
The fog from the dry ice is so much fun!

Spa night complete with manicures and DIY nail art
Add to your spa night with clay face masks

At a sleepover as a teenager, we all did clay face masks and then went to the grocery store to buy ice cream sundae ingredients. It was such a fun memory to go out into the world looking crazy with all my friends.

Make homemade slushies using juice, rock salt & ziplock baggies
Pitch a tent and sleep in the backyard (or on the trampoline if you have one)
or indoor camping, we love our CordaRoys convertible bean bags for this! They switch from bean bag chair to full size bed.
Make blacklight bubbles

This one is especially fun for younger kids & so easy to do. Just add highlighter ink to bubbles, turn on a black light & you're good to go!
I love this tutorial from Paging Super Mom

Do temporary tattoos

If you've got younger kids, you can just do the regular press on tattoos (these ones glow in the dark!)
But, if you're hosting tweens or teens, then Inkbox has some realistic ones that last 1-2 weeks.

Play MASH
Stay up for a meteor shower

If you can coordinate it, this is a fun one! Especially great for older kids who have no problem staying up late & pulling their sleeping bags outside.

Make mocktails
Braid feathers into each other's hair
Go night swimming

My kids love late night swims in the summertime. Something about swimming in the dark is just a lot of fun. Bring glow sticks!

Make smores indoors with tealight candles, mini marshmallows, toothpicks, and teddy grahams

I did this on a date in college, it was so creative & fun! Light your (unscented) tealight candle, put your mini marshmallow on a toothpick & get roasting!

Sit in a dark room with glow sticks & flashlights and tell scary stories

If you can't think of any, there are plenty online.

Be sure to document the night

I love the idea of taking a camera and vlogging the night
You can also grab an instax camera & take tons of fun candid shots! Send everyone home with a photo as a memento

Go on a night walk with flashlights and head lamps

Make this a scavenger hunt or play some night games!

Play signs

Everyone sits in a circle and comes up with their own individual sign (some type of hand gesture typically)
Take turns showing everyone your sign
Select one person to be the guesser, they are in the middle of the circle
The goal is to "pass signs" as long as possible without being caught by the guesser
To pass a sign you first do your sign followed by the sign of the person you are passing it to. Then it is their turn to do their sign and the sign of someone they want to pass to.
If the guess catches you signing, you are now in the middle.

Have a movie night

Play a new movie, or an old favorite! Complete with popcorn & candy!

Pillow fight

This just gives classic sleepover vibes but is definitely not fun with younger kids so I wouldn't recommend because someone always gets hurt.
I hope this post helped you think of some fun things to do when at a sleepover! It definitely gave me some great ideas for our upcoming cousin trip!