This homemade pico de gallo recipe is so ridiculously easy to make, is super healthy, and goes great with Mexican food. We love it as a topping on salads.
Even though the recipe calls for jalapeño, it's really not spicy at all. Granted, I guess it could all just depend on your taste buds, but I've never found fresh jalapeño spicy–canned, pickled jalapeño is spicier than fresh though.
Because it's not spicy, we just use homemade pico de gallo for any recipe that could benefit from a bit more flavor. If we want spicy, we go with a legit salsa recipe like salsa de arbol or salsa verde.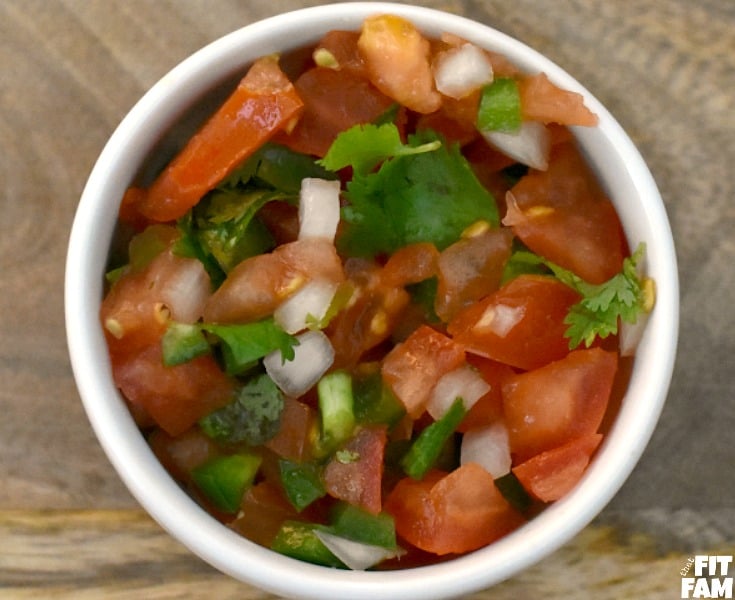 How to make homemade pico de gallo:
All you need to do is cut up half an onion, 2 tomatoes, cilantro and a jalapeño and combine them with lime juice. It's literally that simple.
Make sure you remove the stems from the cilantro before cutting it up. My biggest pet peeve is going to a Mexican food chain and having pico with all the cilantro stems in it. Who wants that? I mean, really..
A tip I read on instagram said you can quickly remove the stems by holding the bunch of cilantro tightly and running a fork through the leaves. It is supposed to pull them right off the stems. This works for me only about 50% of the time, but it's worth a shot.
The great thing about this pico recipe is that, aside from being quick & easy, it is packed with superfoods like tomatoes and cilantro.
What to eat it with:
If you're an avid meal prepper, we love prepping this for the week to pair with our all time favorite healthy blackened chicken salad! It is one of my go-to's for lunch during the week.
It is also a great topping for our black bean enfrijoladas or burrito bowls.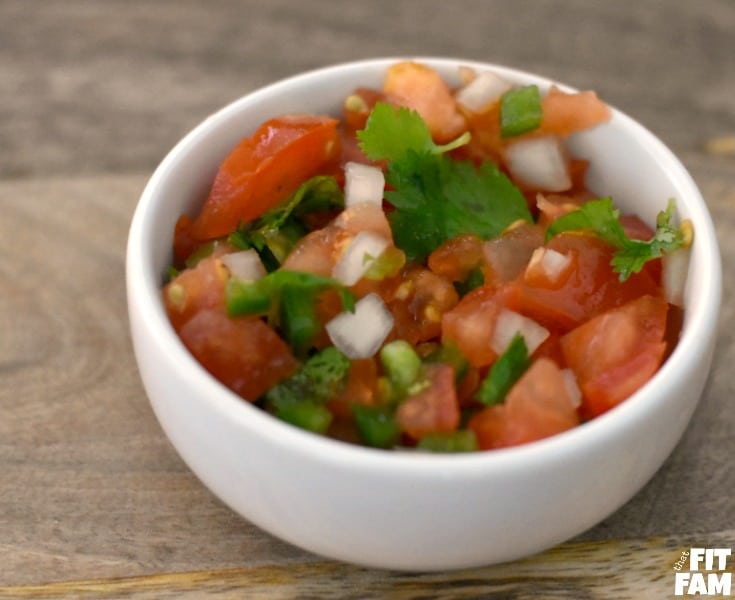 For me, this makes a good amount of pico for the week. However, if you are planning on having your whole family eat it on multiple occasions, you may want to double the recipe.
Our kids are still pretty young (3&5) and always tell me that they don't want "onions" so I make this primarily for me, especially since Scott works long hours keeping him from eating it too.
Pico de Gallo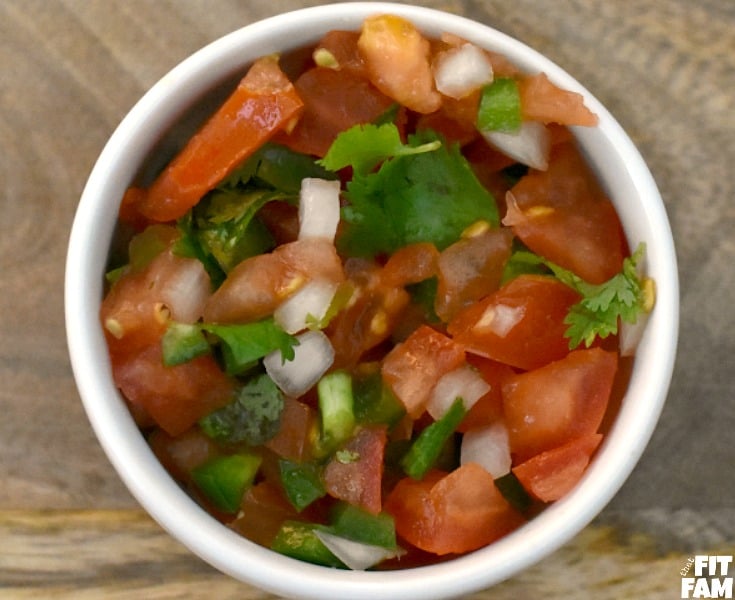 A super easy homemade pico de gallo recipe that makes a great salad or taco topping. We love it on all our Mexican inspired meals.
Ingredients
1 fresh jalapeño
2 vine ripened tomatoes
1/2 small onion
1 small handful cilantro, stems removed
1 lime
Instructions
Finely chop all ingredients except lime and combine in a bowl.
Squeeze juice of 1 lime over mixture and stir well.
Store in fridge and serve cold =)