I can't be the only one who's wondered how long muscle gain actually takes, right? I mean, I've felt the effects of a tough work out almost immediately, but when you don't notice a huge physical difference quite as quickly, you begin to wonder if your hard work is paying off.
Not that I'm trying to bulk up or anything, but I love the idea behind being strong plus when you gain muscle you also increase your metabolism. One pound of muscle burns about 7-10 calories daily while fat only burns 2-3 (source). While that's not much too impressive of a difference, it is fun to know that your body is working toward your goals even when you're not at the gym.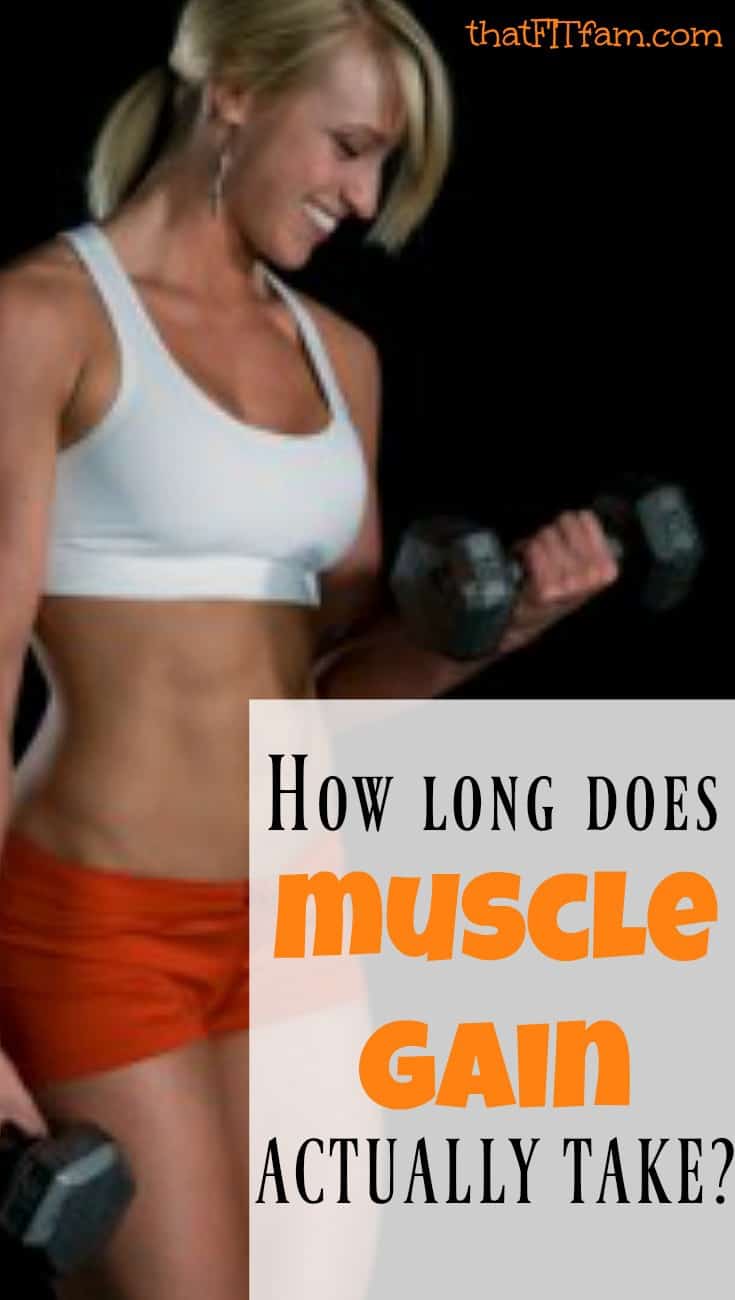 Let's be realistic about muscle gain.
Okay. We all know that no matter how consistently we work out or how on point we are with our eating, we will not see results immediately. That's a given. But, how long until we do? Can we notice a change in a week? in two?
Knowing the facts about how long muscle gain actually takes will help us to be realistic in our fitness goals and keep us from getting discouraged.
So, how long does it take?
Average Man: about 1.5 pounds of muscle gained per month
Average Woman: about 0.5-1 pound of muscle gained per month
What's interesting is that those numbers are for beginning lifters, as you become more advanced the rate of muscle gain decreases slightly (source).
While, pounds of muscle gain may be a slow grow, weight loss can still have a huge impact on our appearance and show some off some of our hard work. One to two pounds lost per week is a healthy goal if you are looking to lose.


Tips for muscle gain.
Choose compound movements (squats, deadlifts, bench press-exercises that involve multiple muscle groups) over isolation movements.
Push yourself. Most people do not lift heavy enough.

According to SELF, "You know the weight is heavy enough if you struggle to complete the last few reps and would have liked to end a few reps before you planned to…You should be able to keep the correct form right up until your last rep (but not much longer)…A weight is too heavy if you struggle to maintain proper form or can't hit the number of repetitions set out in the workout"

Eat enough protein.
Rest.
Be active on your rest days. This will increase blood flow to your muscles and help facilitate muscle tissue repair.
There you have it. The truth behind muscle gain. I hope after reading this post you remember to set realistic goals for the new year. If you need some ideas, here are some of ours 😉