We are going through a major picky phase right now. I know a lot of people recommend no snacking, but I don't really care as long as my picky eaters are choosing healthy snacks.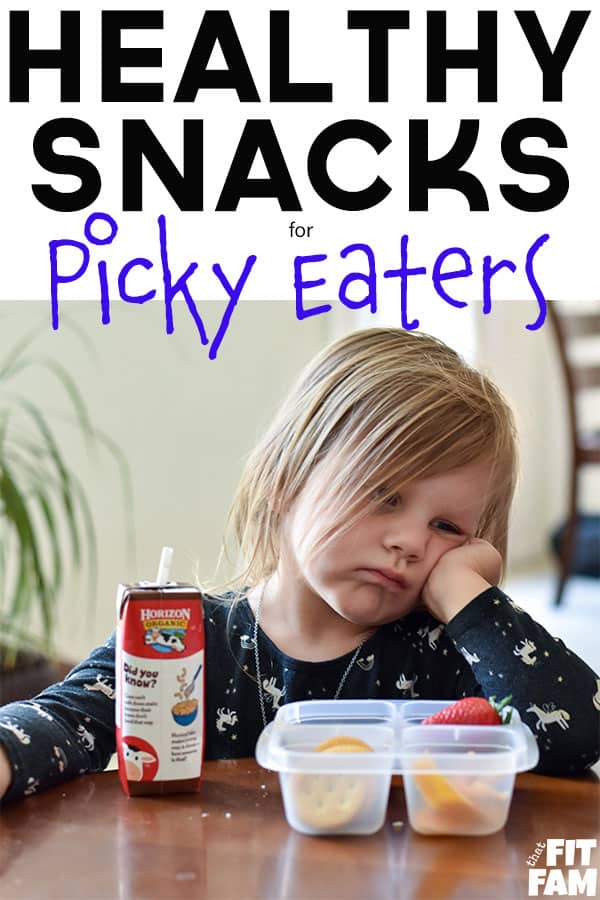 Our main criteria for these snacks are that they are easy to make in bulk, or pre-made & minimally processed, preferably sugar-free, and bonus points if they contain fruits or veggies. And then of course, our kids have to actually like eating them.
Recommended Read: 10 tips for quitting sugar
The worst thing about this phase is that both of our kids are going through it at the same time and they have complete opposite taste buds. If Farrah will eat it, David won't and vice versa.
This is mainly an issue with our dinners. So we combat this by just having a variety of snacks available. This way I know they at least had some good snacks throughout the day and I'm not too worried about the one who only had 1 bite of dinner.
Top Healthy Snack Choices
Hard Boiled Eggs— Everyone has their "fool-proof" method to peeling hard boiled eggs. What works best for me is to peel them while they're warm. No ice shocking method. I just run some cold water on them until they're not too hot for me to handle, give them a little tap & peel away. BTW my kids LOVE hard boiled eggs. I can't peel them fast enough. It's frustrating because I'll make 2 dozen and by the end of it I'm left with half!
Flat Out Pizza— So quick to make, and definitely kid approved! I make one and split it between the two of them. The ingredients for this are definitely pantry staples at our house!
If you haven't heard of the Flatout brand yet, we love it. Each pack comes with 6 pizza crusts that only have around 20 carbs each. If you can't find these, any flat bread will work.
(picture from their website: link)
Banana Shake— David has these almost every day. So simple, has a nice milkshake consistency, only 3 ingredients, and is pretty healthy. (recipe here: banana shake)
Beef Jerky— We love Oberto Beef Jerky. It's the brand I grew up on =)
Fruit–One of the more obvious healthy snack go-tos. Apples and peanut butter are a current fave.
Quick tip: With any fruit, especially any melons, prep it ahead of time that way it's less of a hassle when you actually want it. If I cut it up as soon as I bring it home from the store, we eat it, otherwise I just put it off forever and it goes bad. The fruit I like to prep are: mini watermelon, cantaloupe, honeydew, grapes (washed & stems removed). We also love having bananas, apples, mandarin oranges, mangoes, and nectarines, but obviously those don't require a lot of prep time.
Kodiak Cake Banana Muffins— No, it's not sugar free, but it's whole grain, has banana mixed in, & the kids love it, so all-in-all I call that a win! My kids also LOVE chocolate zucchini muffins.
Peanut Butter Oatmeal Energy Bites — Classic energy bites recipe, but I add a couple extras to bump up the nutritional value even more for the kiddos.
Froozers— These things are like smoothies in popsicle form! So good! From their website:
"Natural fruits and veggies in all their glory, nothing added or subtracted, not even a drop of water."
The best part is that they are only made of fruits and veggies–no sugar! And the kids feel like it's a treat.
UPDATE: I haven't seen these recently. They used to sell them at Walmart and Costco.
Yogurt Parfaits— I prep these in advance with chopped strawberries added. My son LOVES yogurt. If I don't prep these in individual servings, he will eat an entire 2 pound container that same day. I like to mix normal yogurt with nonfat Greek yogurt for extra protein (recipe here: vanilla yogurt parfait meal prep)
Chips and Salsa Sometimes we make it fresh, but even the jarred stuff isn't so bad. Plus it's so quick especially if you already have corn tortilla chips on hand. We don't always, but we do have normal corn tortillas, so we will just cut those into triangles, spray with oil and then broil for a couple minutes & they're ready to go.
Roasted Carrots If you ever make pot roast or even soup, I like to throw in extra carrots & then I scoop them out and save them for my kids to snack on. They love the extra flavor that it's absorbed and are about 100 times more likely to eat these than raw carrots.
Peanut Butter & Jelly Sandwiches– Even better if you cut them into shapes. I like to use whole grain bread and this homemade strawberry jam that I make out of strawberries, chia seeds, and honey. We always have that jam in our fridge in the Summer months, I love the extra nutrients it provides.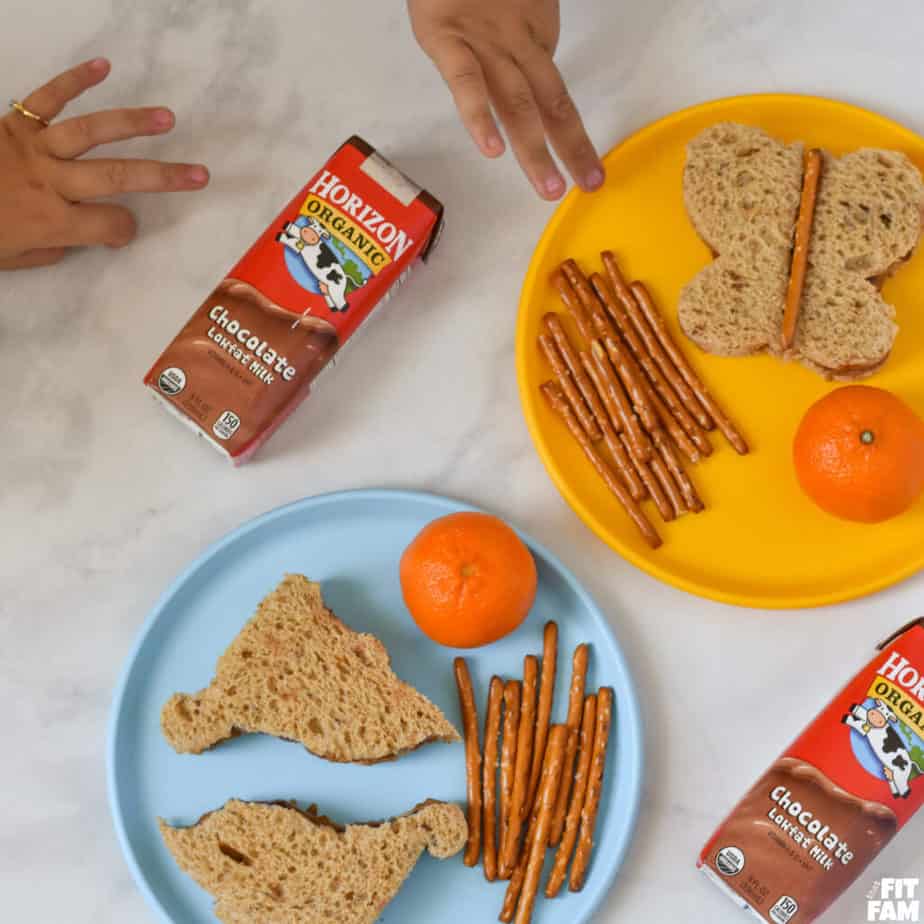 Zucchini Fries These take a bit more effort, but I love when they get in some veggies (recipe here: Cajun Zucchini Fries)
Oven roasted potatoes- Potatoes have a lot of vitamin C and potassium. I will cut them into chunks, spray with cooking oil & sprinkle with a lot garlic powder and some salt. Then I roast them in the oven at 400* until crispy. Sometimes I add this to lunch or dinner and sometimes I just serve it by itself with ketchup.
Ham and crackers– Do your kids love lunchables? Mine do too. Who knows why, the meat always looks questionable to me. Because of this, I now buy Boar's Head sweet slice ham from the grocery store every week. The kids love it with Ritz crackers. It's a great high protein snack.