Tinga de Pollo Tostadas are a classic Mexican dish that is surprisingly healthy and easy to make. It is one of our favorite meals that comes together fast!
I've said it before and I'll say it again: I could eat Mexican food all day every day. Seriously. And really, it's not all that unhealthy. As long as you avoid frying and using too much cheese…
Tinga de Pollo tostadas are such a simple, but delicious healthy recipe that you and your family will LOVE!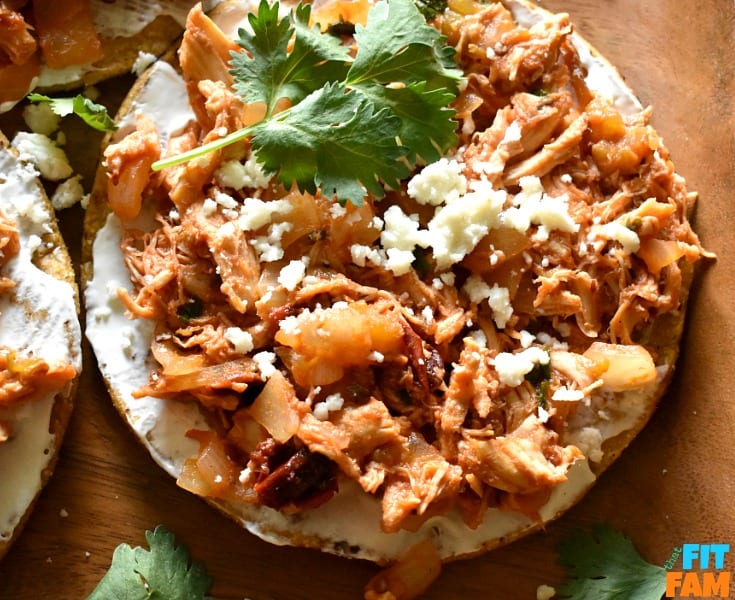 Tinga de Pollo is made using chipotle peppers, but it's not that spicy. In fact, I've been feeding the seasoned chicken to my son since he was 9 months old. It's one of his favorites.
The best part about this is you can whip it up in about 10 minutes if you use a pre-made rotisserie chicken.
I always grab the giant $5 ones from Costco when I'm planning on making these. I only use the breast meat and then legs, thighs, and wings are reserved for another meal during the week.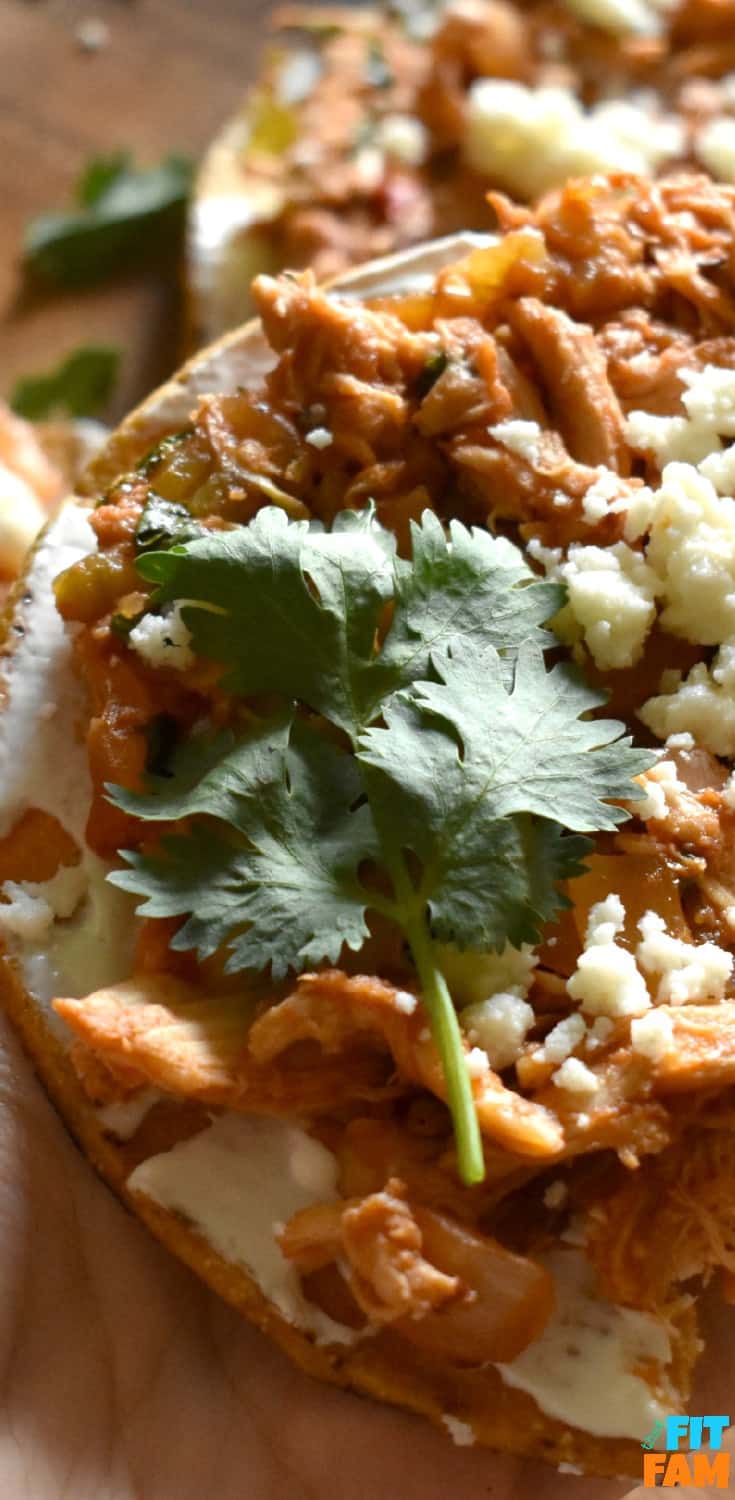 These chicken tostadas are a classic Mexican recipe. The basics of the recipe are always the same: tomatoes, chipotle peppers, onion, and chicken breast. Our family recipe does call for a couple extra ingredients that I feel just really adds to the flavor and makes the dish a little more unique.
Assembling your Tinga de Pollo tostada:
Typically you wanna slather a little sour cream on the tostada first, then pile on the meat. After that you can add queso fresco, shredded lettuce, cilantro, tomatillo salsa or whatever your heart desires. Try it with our homemade guacamole or our easy refried beans 😉
Aside from tostadas, I also love to use this tinga recipe as a the stuffing for my empanadas. I don't make empanadas often because they are deep fried & carb heavy, but trust me, they are amazing with this spicy chipotle chicken filling.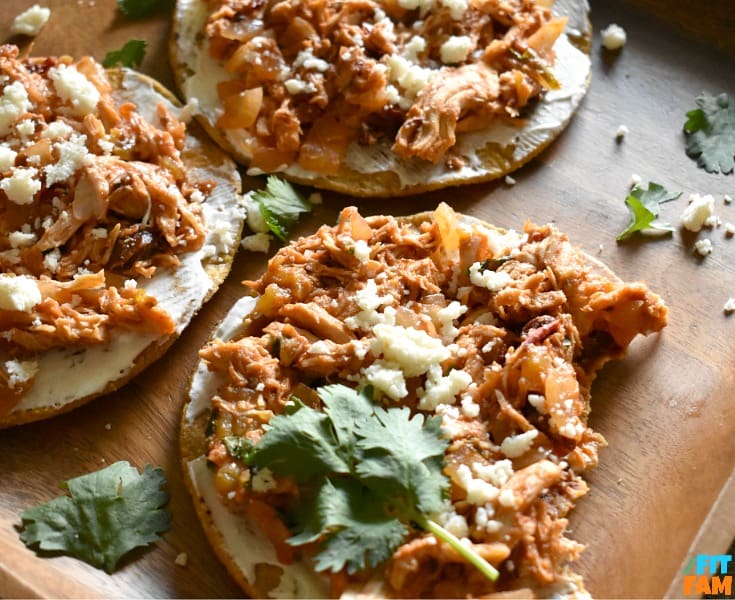 Yield: 4 servings
Tinga de Pollo Tostadas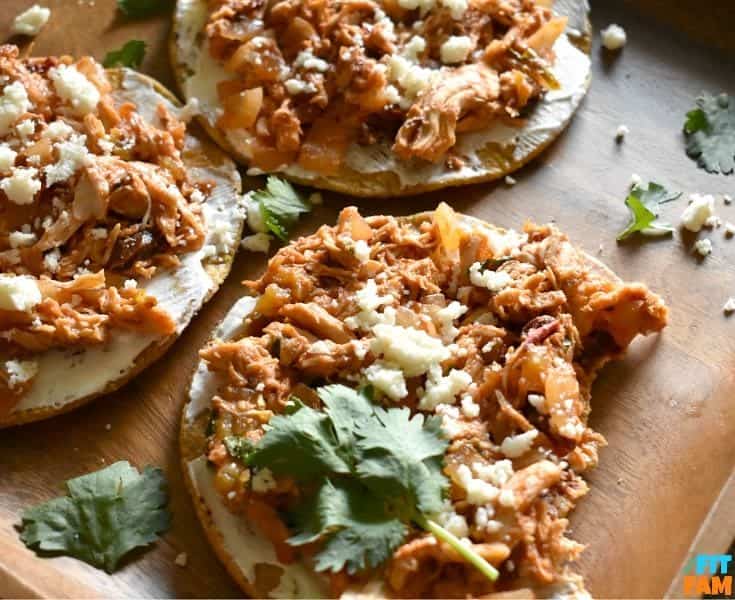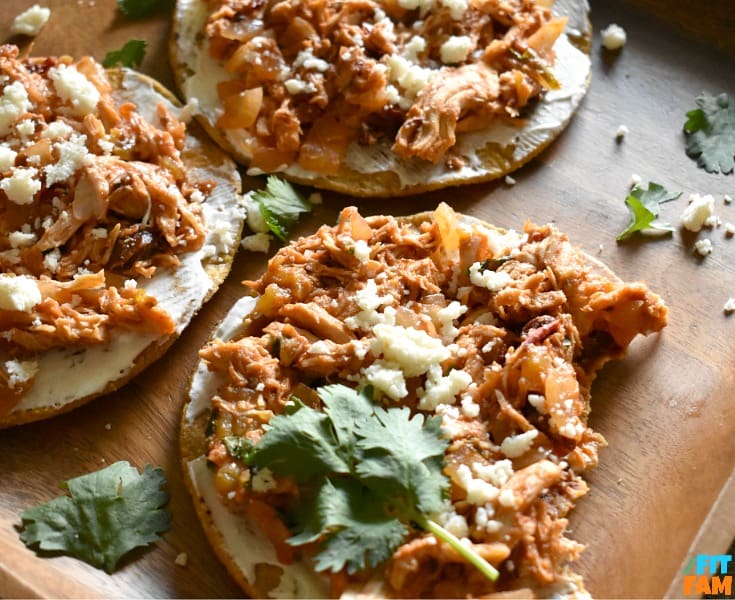 Tinga de Pollo Tostadas are a classic Mexican dish that is surprisingly healthy and easy to make. It is one of our favorite meals that comes together fast!
Ingredients
Breast meat from 1 large rotisserie chicken
7 Chipotle peppers, diced (canned chipotle peppers) *
1 small white onion, diced
1 clove garlic, minced
1/4 cup chicken stock
8 ounces tomato sauce
4 ounces diced, green chilis
small handful of cilantro, stems removed
8 tostadas
Nonfat, plain Greek Yogurt spread over each tostada (optional but recommended)
Queso Fresco topping (optional)
Instructions
In a large pan on medium heat, spray with canola oil cooking spray.
Add onion and garlic.Cook until translucent.
Add in can of diced green chiles and chipotle peppers you diced.
Sautee 1 minute, then add can of tomato sauce.
Give it a quick stir then add in shredded chicken & chicken stock.
Stir to make sure chicken is evenly coated in sauce mixture.
Add in cilantro, stir and served over tostadas.
Notes
We assemble our tostadas with nonfat, plain Greek yogurt spread over them first & topped with about 2 ounces of the chicken tinga mixture. Nutrition facts calculated without queso fresco.
* The chipotle peppers are from the canned chipotles in adobo. We love La Costeña brand. You should only need one can. I then just pick out the individual peppers.
Recommended Products
As an Amazon Associate and member of other affiliate programs, I earn from qualifying purchases.
Nutrition Information:
Yield:
4
Serving Size:
2 tostadas
Amount Per Serving:
Calories:

376
Total Fat:

11g
Carbohydrates:

32g
Protein:

38g