Healthy shrimp tacos are a great addition to your Taco Tuesday menus. The magic truly happens when you combine ALL the toppings into one delicious taco!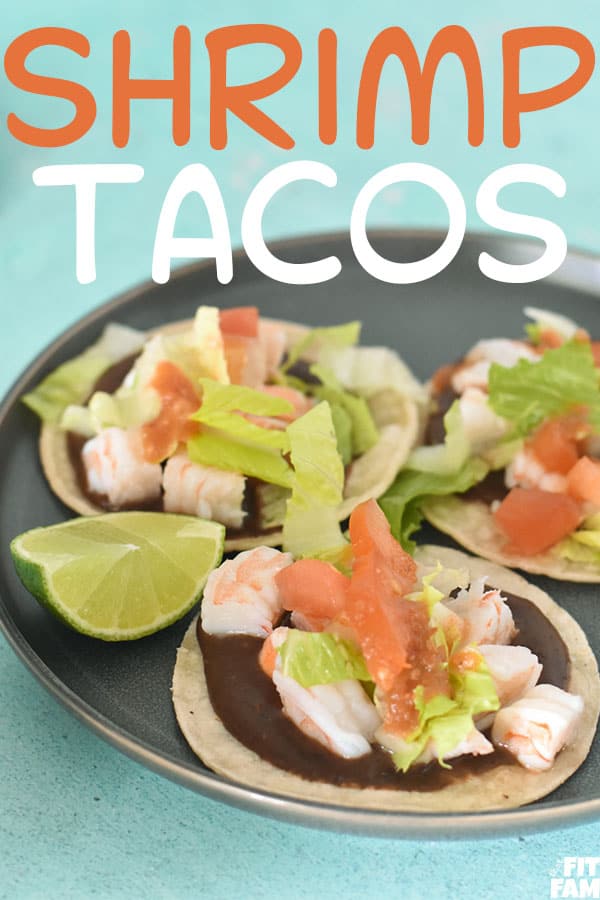 The shrimp itself is so simple to make and if you already have the black bean sauce prepared (like we did), this meal comes together extremely quickly.
In fact, that's what I love about shrimp. It's such a go to food option when you're low on time. Not only does it cook within minutes, it also thaws quickly if you buy frozen shrimp.
We always stock up on frozen shrimp during our Costco runs. Any fast meal option we can get our hands on that's not fast food is a must.
Black bean sauce
The black bean sauce is a must in this recipe. It takes a couple extra steps, but it's actually really easy to make. And the shrimp tacos are just dull without it.
You'll need to prep these the night before. I rinse uncooked beans and boil for 2 minutes. Then cover the pot and remove from heat and let sit 1 hour. These are the directions on the bag of the 1 pound bag of beans.
After this, just rinse them a couple times and stick in the crockpot with a good amount of water and cook on low overnight.
In the morning, in a large pot heat oil and add roughly chopped onion, 1 serrano chili pepper sliced down the middle, and minced garlic. Cook until fragrant. Then add in the beans with the water it cooked in, 1/2 a chicken bouillon cube, 1/2 tbs salt and 2 ancho chilis (stems and seeds removed). Boil for 3-4 minutes (until ancho chilis have softened).
Lastly, blend it all together until you get a slightly thicker, gravy like consistency. Add more water & salt if needed.
It sounds like a lot of steps, but it's easier than you'd think. Plus, you now have a delicious bean sauce that is not only great for shrimp tacos, but pairs perfectly with breakfast migas, enfrijoladas and even just chicken taquitos.
Toppings for shrimp tacos: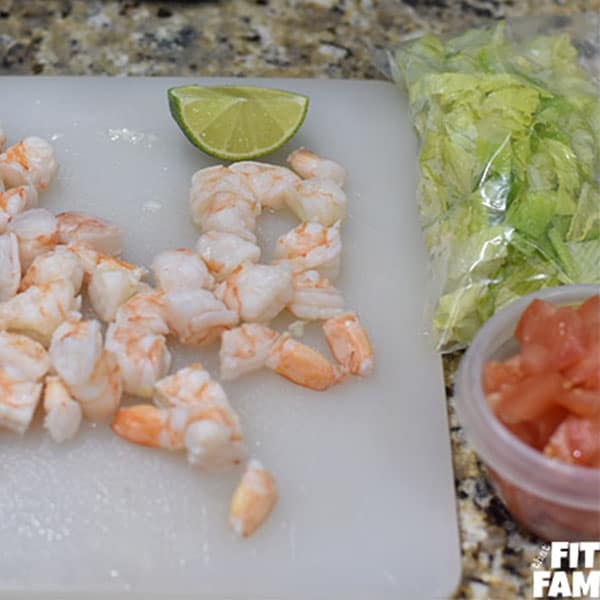 I'd like to say these are optional, add toppings as you'd like. But, I don't think you can get the full taco experience without all the toppings.
I already explained how crucial the black bean sauce was. I suppose you don't need pico or lettuce.. I mean maybe you don't. But, it really adds something extra.
I have a great salsa recipe here using tomatillos. When I made these I used that salsa recipe but I used a mix of tomatillos and vine ripened tomatoes instead and it turned out AMAZING!
Yield: 6 tacos
Shrimp Tacos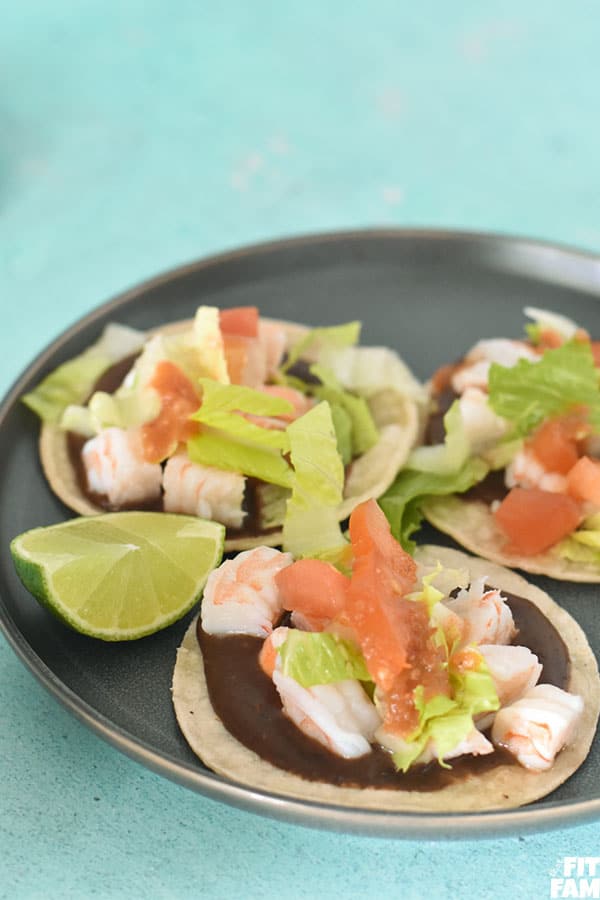 Ingredients
8 ounces of shrimp, peeled & deveined (tails removed)
1 tbs of butter
1 clove garlic
Juice of 1 lemon
6 corn tortillas
shredded lettuce
Instructions
In a skillet, melt butter over medium heat. Add minced garlic and sautee until fragrant.
Add in shrimp and pour in lemon juice.
Flip shrimp halfway through, they cook quickly and are done when pink in color.
Remove from skillet and cut each shrimp into fourths.
Heat corn tortillas in the microwave.
Top each tortilla with bean sauce, shrimp, lettuce, pico & salsa!
Notes
I've linked recipes for the black bean sauce, pico and salsa.